If you have detailed photos and it is essential for you that all those fine details must be captured in high definition, then you need a Flatbed Scanner with a High Resolution. We researched the Best Flatbed Scanners on the market that will guarantee to provide high resolution scanning

Here are the Best High-Resolution Flatbed Scanners that you need to buy.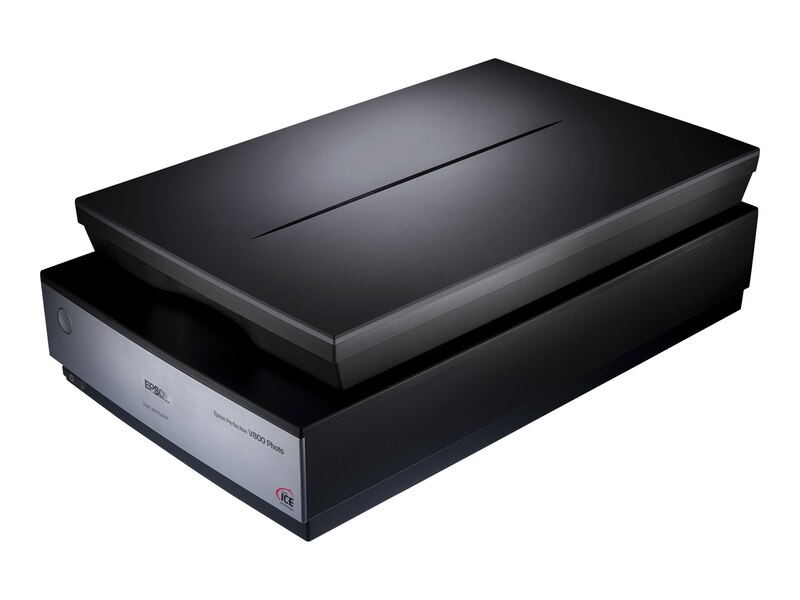 Product
Format
Optical Resolution
Connectivity
Color Depth
Price

Our choice


Epson Perfection V800


A4
6400 x 9600 dpi
Hi-Speed USB 2.0
48-bit Color
Click for more info

Epson Perfection V850


A4
6400 dpi
Hi-Speed USB 2.0
48-bit Color or 16-bit Grayscale
Click for more info

Epson Perfection V600


A4
6400 dpi
Hi-Speed USB 2.0
48-bit Color or 16-bit Grayscale
Click for more info
Let's have a look at each product in particular.
Epson Perfection V800
The V800 is the perfect Flatbed Scanner with a High Resolution. First of all, it can scan at an optical resolution of 6400 Dots Per Inch. Epson puts it at 6400 x 9600 dpi but you shouldn't trust the 2nd number because that's achieved through interpolation so you don't get any new details in the scan, it's just resized. 6400 DPI is the highest digital image resolution you can find on any commercial scanner.
Because of this resolution, the V800 can scan film negatives. It comes with 4 sets of film holders so that you can capture strips of 35mm photographic film, 35mm slides, medium format film and also 4 by 5 inch film. You can also scan non-standard film up to 8 x 10″ but you don't have a holder for that, you just put it on the scanning glass.
The V800 also has another feature to improve the details on those pixels even more, a Dual-Lens CCD system backed up by its ReadyScan LED lamp and a software feature that does backlight correction to even out the brightness in the photo. That will improve the detail and sharpness. Just like with megapixels on digital cameras, more is better but 2 cameras with the same number can output vastly different results. Scanning an A4 at 300 dpi on fast mode takes about 12 seconds. Scanning a 35mm negative at 4800 dpi takes approximately 65 seconds.
The scanner comes with an ABBYY FineReader license to convert those high-resolution JPEGs, Bitmaps and TIFFs to searchable PDFs. The resolution is not as important in text recognition. Basically beyond 600 dpi there is no real improvement on documents, except for when you scan film slides with text on them. For image enhancement, you get the Easy Photo Fix software that comes standard with most Epson scanners but you can also have the Silverfast SE software which can work its magic even more with Digital ICE features like Dust and scratch removal, Auto Exposure, Descreening to remove Moire effect, Adaptive Color Restoration for enhancing the vividness of faded colors, NEGA for an accurate negative to positive conversion from film, SCC for selective RGB color correction and so many others. The software is good and it has features that you don't get in Photoshop and if you can recreate the effect it just takes so much more time.
Epson Perfection V850
The V850 is the even more expensive high-resolution Flatbed Scanner, it is very similar to the V800 just with a few minor feature differences and we believe a major price difference for which we do not think it would be worth it to pay the extra unless you really need them.
The first difference is the inclusion of something which Epson markets as "High Pass Optics" which is some extra coating on the optics and the mirrors.
The second is a 20-30% faster scanning time. This could be worth it if you really need the speed but usually with these high-resolution flatbed scanners you work in small batches and are more focused on the quality than the speed itself.
The third advantage is the additional set of film holders. If the V800 has 4 film holders, this has a duplicate for each, so 8 in total. That's a good addition and it helps you work a lot faster, since when you are preparing one set of film, the other one is scanning. But you can also buy 3rd party film holders from Amazon for a fraction of the price difference.
It has the Silverfast SE Plus which comes with extra Kodochrome features, Auto Frame Alignment and multi-exposure.
The last addition is that you get a calibration software and 2 calibration targets in the package. Color accuracy is something that will matter to most professional photographers, so it is understandable that you would want this feature.
Epson Perfection V600
The V600 is a Flatbed Scanner with a high resolution, the same that you get in the Epson V800 and V850. But the difference is that it costs 4-5 times less. So why is it as cheap if it has the same number of pixels per inch? Let's have a look at what the Epson V600 has before we get into the differences.
It has a CCD (Charge-Coupled Device) sensor with a pixel density of 6400 DPI but it doesn't have the dual-lens system, nor the high-pass optics. It has the highest resolution of any flatbed scanner at this price point. You can connect it to Windows PCs and Macs through its USB 2.0 port.
The software included with this flatbed scanner is not as fancy as with the others but it will work for most users: Epson Easy Photo Fix, Epson Copy Utility, ArcSoft PhotoStudio, ABBYY FineReader Sprint Plus OCR. You can use the Easy Photo Fix app to enhance and correct your high resolution photos with one click and the ABBYY to do optical character recognition which converts scanned images to searchable PDFs. You can also sync your high-quality photos to the Cloud with Dropbox, Evernote and Google Drive integrations.
Epson provides TWAIN drivers for both operating systems on their website making this flatbed scanner fully-compatible with 99% of the scanning apps. So if you are into film photography and you don't want to spend much on a scanner, this high resolution flatbed scanner is a solid choice.
I need a flatbed scanner with high resolution. But which one?
For capturing photos in high resolution, our choice is the V800 since it offers all the professional editing and enhancement tools that you need. If you need the extra features and you are ok with paying the price difference, then the V850 is for you. For entry-level photo scanning, the V600 will satisfy your needs without making a large investment.