Even though we have been digital for a while, we all have some film slides from those old slide projectors in our archive waiting to come back to life in digital form. You don't need to get a special slide scanner just for a few slides, as you can buy a Flatbed Scanner with a special holder for slides. You can scan slides, printed photos and documents and all of that on a single device

Here is our roundup of the 3 Best Flatbed Slide Scanners.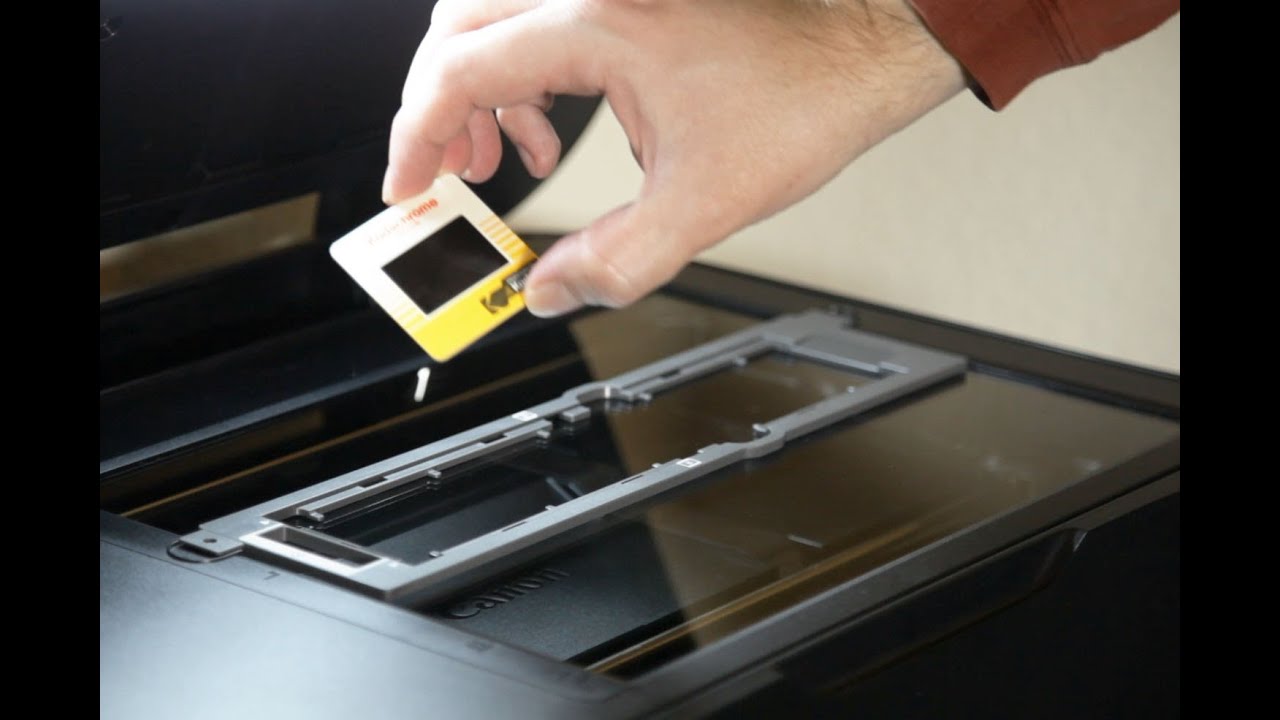 Product
Format
Optical Resolution
Connectivity
Color Depth
Price

Our choice


Epson Perfection V800


A4
6400 x 9600 dpi
Hi-Speed USB 2.0
48-bit Color
Click for more info

Epson Perfection V600


A4
6400 dpi
Hi-Speed USB 2.0
48-bit Color or 16-bit Grayscale
Click for more info

Epson Perfection V850


A4
6400 dpi
Hi-Speed USB 2.0
48-bit Color or 16-bit Grayscale
Click for more info
Let's have a look at each product in particular.
Epson Perfection V800
The Epson V800 is a Flatbed Scanner for Slides with very solid specs and features. It can scan 35mm slides (135 film) with its included film holders. But it can handle other types of slides as well:
110 film slides (16mm film), 126 film slides, 120mm slides and 4 x 5 negative film and positive film.
There are 4 types of film holders for the V800. The first one can hold 35 mm slides and you can put 12 frames in it. The second is for 35 mm film rolls and strips and that one can hold 3 strips which accounts to 18 frames. Then there is the holder for medium format film for just one frame that can go up to 6 by 20cm. There is also an additional 4 inch by 5 inch frame holder. It can scan color and black-and-white Kodacolor, Ektachrome and Kodachrome slides.
If you scan at 2400 dpi it takes about 6 minutes to scan a dozen 35mm images. The only slight problem with productivity here is that it doesn't have a second set of film holders. That is where the V850, the more expensive version of this comes in. It has 2 sets of these film holders, so while you are scanning one set (which takes a while), you can load the other set. But if you don't want to pay the extra money you can just get an aftermarket set from amazon.
This flatbed scanner has an optical resolution of 6400 dots per inch. It achieves that image resolution using a CCD sensor with a Dual-Lens system. The Dual-Lens is only available on the higher end scanners like V800 and V850, but not on the V600. It can output images with a 4.0 Dmax. If you are not familiar with the term, a 4.0 Dmax basically means that you will get really deep blacks in your scanned slides. The CCD system is backed by an energy-efficient ReadyScan LED lamp that doesn't need any time to warm up. When you scan in color, it has a 48-bit color depth. You can connect this flatbed slide scanner to your Windows PC or Mac using its USB 2.0 port and Epson provides TWAIN drivers so you can use it with any scanning app, not just the proprietary one. It is a bit on the heavier side, weighing 14.6 lbs but all those features and specs have to add up somewhere.
The software included with the V800 has among others: Epson Scan, LaserSoft Imaging SilverFast SE software, ABBYY FineReader. The Silverfast SE software has some specific features for improving the quality of scanned film slides like GANE for removing film grain and noise, Batch scanning, Descreening for removing the Moire effect, Color Vividness enhancement, Selective color correction so that you can adjust different RGB colors, 64-bit HDR and NegaFix which helps you convert from negative film to positive while keeping the true and accurate colors.
There is also a competitor scanner from Canon, the
Canon CanoScan 9000F MKII
which has a similar price but was discontinued and now none of the Canon Canoscan Lide scanners can digitize slides or negatives. Still you can buy them for a good price on Amazon as they still have models in stock. Check prices before and make sure you are not buying them for more than 800$.
Epson Perfection V600
The Epson V600 is the flatbed slide scanner that is the best value for money. It also has a CCD (Charge-Coupled Device) with a pixel density of 6400 DPI and this is without any interpolation, so you get the same number of pixels per inch, but this time without the Dual Lens system and with a Dmax of 3.4, so the blacks will not be as deep in your diapositives and so the dynamic range will be lower. It connects to your computer through its USB 2.0 port and is compatible with both major operating systems, Windows 10 and Mac OS X. It can scan anything up to a paper size of A4.
The Epson perfection v600 photo scanner comes with a transparency unit and 2 photographic film holders for film negatives: The first one can hold 12 frames of 35mm film and 4 medium-format film. The second one is an additional for mounted slide film. Like we mentioned with the V800, you can just purchase additional holders for the scanner to increase your productivity. We also found The scanning time is about 3 minutes for a 35mm frame in the highest possible quality. But the scan speed for a monochrome document at 300 DPI it takes just 6 seconds. You can also get an 8mm film holder on Amazon
The editing software that comes with this digital photo scanner includes: Epson Easy Photo Fix, Epson Copy Utility, ArcSoft PhotoStudio, ABBYY FineReader Sprint Plus OCR. You will notice it doesn't have the Silverfast, but it does come with the Easy Photo Fix that provides Digital ICE technology features for dust and scratch removal from scanned film slides and photos, automatically detecting the orientation of the scanned image and cropping it. These are not advanced features but they will save you some Photoshop time. It also has ABBYY FineReader for Optical Character Recognition. You can save your digital images in JPEG, TIFF, Bitmap and PNG formats along with PDF and searchable PDF. The software can also automatically sync the digital files with your Cloud Storage accounts like Google Drive, Dropbox and Evernote.
Epson Perfection V850
The Epson Perfection V850 pro is an even more high-performance version of the already very good Epson V800 Flatbed Slide Scanner. It has mostly the same specs, a 6400 DPI resolution from a Dual-Lens CCD Sensor and a 4.0 Dmax black density.
It costs more but what exactly are you getting for the extra-money?
First, you get a bit more in image quality. Epson put some special coating on the optics and mirrors to create something called "high-pass optics" which will add up to even better image quality. The V850 will also be faster because of a faster image processor.
An important difference regarding slides and film is that you get an additional set of film holders. So in total you will have 8 film holders for increased productivity. The software is also improved, it has the Silverfast SE Plus which offers Kodochrome features, quite important when scanning slides, multi-exposure, auto frame alignment and printer calibration.
Another important difference is in color accuracy because it comes with calibration targets for the X-Rite i1 scanner so you can create and apply color profiles to correct any inaccuracies.