If you have 35mm or 8mm film negatives that you want to digitize, you can buy a flatbed scanner that also has a special holder for you to digitize your film. That way you can scan your printed photos, your films and documents all on the same scanner. We compare the best flatbed scanners that work for film based on their image resolution, the speed at which they scan, the color depth and much more.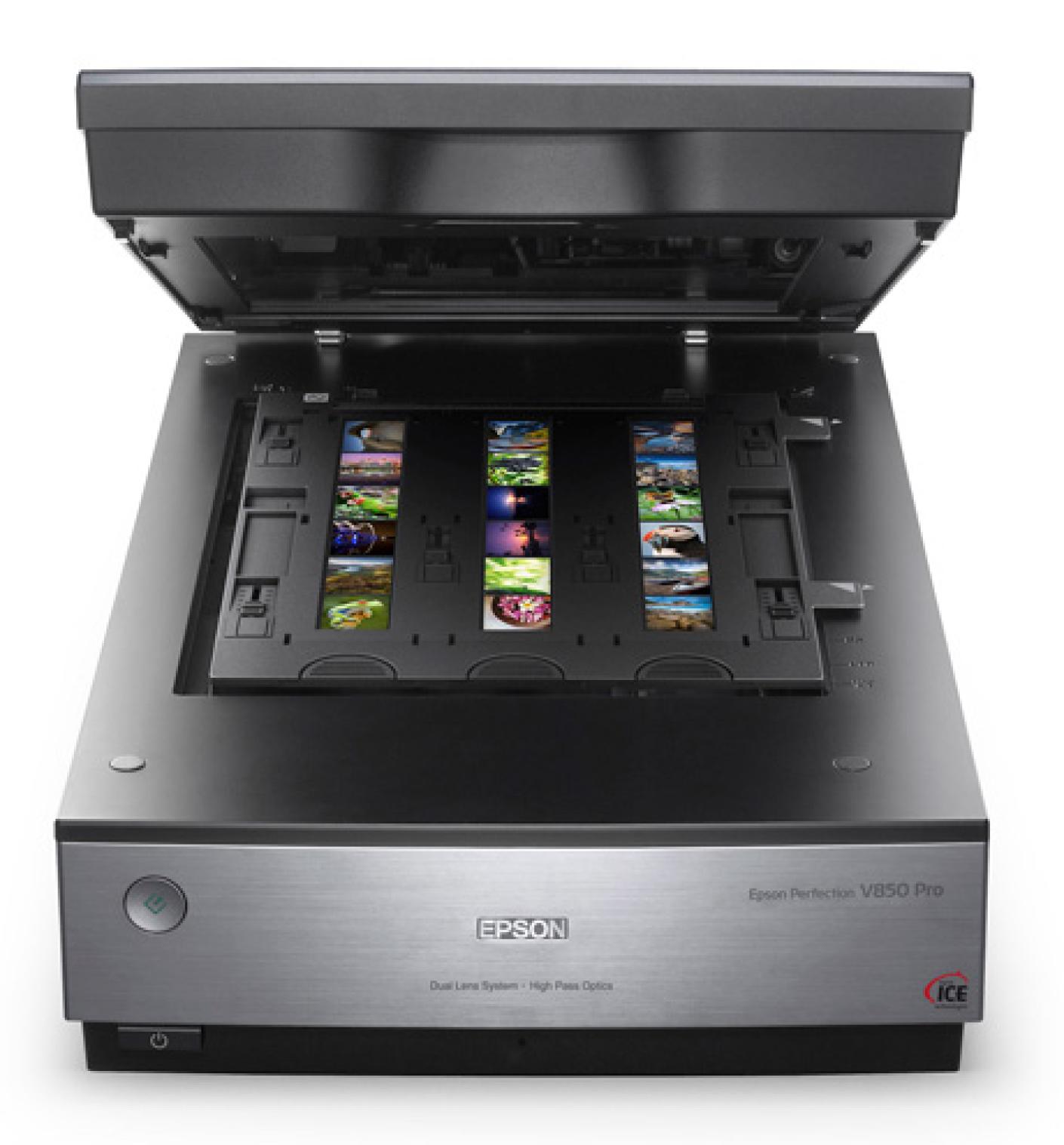 Product
Format
Optical Resolution
Connectivity
Color Depth
Price

Epson Perfection V600


A4
6400 dpi
Hi-Speed USB 2.0
48-bit Color or 16-bit Grayscale
Click for more info

Our choice


Epson Perfection V800


A4
6400 x 9600 dpi
Hi-Speed USB 2.0
48-bit Color
Click for more info

Epson Perfection V850


A4
6400 dpi
Hi-Speed USB 2.0
48-bit Color or 16-bit Grayscale
Click for more info
Let's have a look at each product in particular.
Epson Perfection V600
The V600 is one of the best scanners for film that you can buy because it is a great balance between film scanning features, image resolution and price.
The scanner has an optical resolution of 6400 dpi from a CCD sensor with no interpolation. This is important because for film we want the best type of image sensor and that is the CCD. It has a color depth of 48-bit when you scan in color and 16-bit when you do so in grayscale. The sensor works with a ReadyScan LED lamp that doesn't need to warm up. It connects to your computer using a standard Hi-Speed USB 2.0 port. The scanner weighs approximately 9 lbs, so it is easy to carry around. It also has a speedy scanning time of approximately 6 seconds at 300 dpi, not that you will be scanning film at that resolution. For film we always recommend you scan in the biggest possible pixel density you can.
Now for the film part: This flatbed film scanner is compatible with 35mm film and medium format film. It comes a transparency unit that allows you to scan up to 12 frames of negative film (You can also use positive film). You can put independent frames or complete film strips. You can adjust all the options like exposure and gamma. There is also another film holder for 120 / 220 film.
It is certainly not as good as the V800 or V850 but you have to keep in mind that it costs far less than them. The Epson V600 comes with a software bundle that contains: Epson Easy Photo Fix, Epson Copy Utility, ArcSoft PhotoStudio, ABBYY FineReader Sprint Plus OCR. The software provides Digital ICE features for removing scratches and dust from film. It can also automatically detect the correct orientation of your photos and adjust them. The software also syncs with cloud storage providers like Google Drive, Dropbox or Evernote. Epson provides TWAIN drivers on their website so you can use the scanner with any scanning app that you want, not just their proprietary software. All the Epson software is compatible with the major operating systems, Windows 10 and Mac OS X.
Epson Perfection V800
The Epson V800 is a professional flatbed scanner for film and photos. It was designed for photographers who shoot in film. Before we talk about the film aspect, let's have a look at the specs and features. It has a CCD (Charge-Coupled Device) sensor but this time with a dual-lens system that can capture at a pixel density of 6400 dots per inch. The dual-lens system will provide sharper and more detailed images even if it has the same pixel density as the V600. It also has a 4.0 Dmax density that will bring out much deeper blacks in your photos compared to the V600. The color depth is the same, with the scanner being capable of outputting 48-bit color scanned images. It uses the same USB 2.0 port that you will find on the V600.
Regarding film, the V800 comes with a set of 4 film holders. The 35mm mounted slides holder can take up to 12 frames, the 35mm film strip holder can take 3 strips and that means up to 18 frames, the medium-format strip holds one big frame up to 6 x 20cm and the last one is the 4 inch by 5 inch frame holder.
The software bundle also includes the Silverfast SE software in addition to what the V600 has. Silverfast SE has advanced features like automatic frame detection, unsharp masking, features for batch scanning, Color tone adjustment, GANE for eliminating noise and film grain from digital images and NEGA fix for grayscale to color film conversion and features for improving the vividness of the colors. These can substitute the need for Photoshop up to certain point.
The software can export to different RGB photography file formats such as Bitmap, JPEG, TIFF and PNG.
Epson Perfection V850
The Epson V850 is very similar to the V800 but it has some advantages but which also come with a higher price. It has the same number of pixels per inch, a 6400 DPI resolution. The USB 2.0 port is the same for connecting to Windows and Mac devices.
The V850 has the same set of film holders like the V850 but it has two of each, so you can be more productive. While one film holder is being scanned you can load the other one with film. You also get calibration targets so that you can calibrate the scanner using the X-rite i1 calibration device.
The software provided with the V850 flatbed film scanner consists of: Epson Easy Photo Fix, LaserSoft Imaging SilverFast SE PLUS, X-rite i1 Scanner. You will notice that the SilverFast version is different, it has a few extra features. Silverfast provide a comparison table on their website regarding the discrete differences between the two. If you want a summary, you get additional auto frame alignment, printer calibration, features for Kodochrome and Multi-Exposure.
Which is the Best Flatbed Scanner for Film?
If you just want to digitize your family photos that you have left from your old film camera, then the Epson V600 is a great option for you because you don't have to invest that much. It also has OCR and it is a good photo and document scanner. If you are a professional photographer that likes to work with photographic film then you need to look at the V800 and V850 as they will cater to your needs a lot better not only through their dual-lens system and 4.0 Dmax but also with the integrated post-processing software. These scanners are guaranteed to produce high-quality color and black-and-white scans.