Epson is our favorite Flatbed Scanner brand. They have been making them ever since they were invented and in time they have perfected the scanners over and over and today you can get high resolution scanners made by them at a very low-cost. The selection is large and that's why below you will find our Top 3 Epson Flatbed scanners that you can buy today.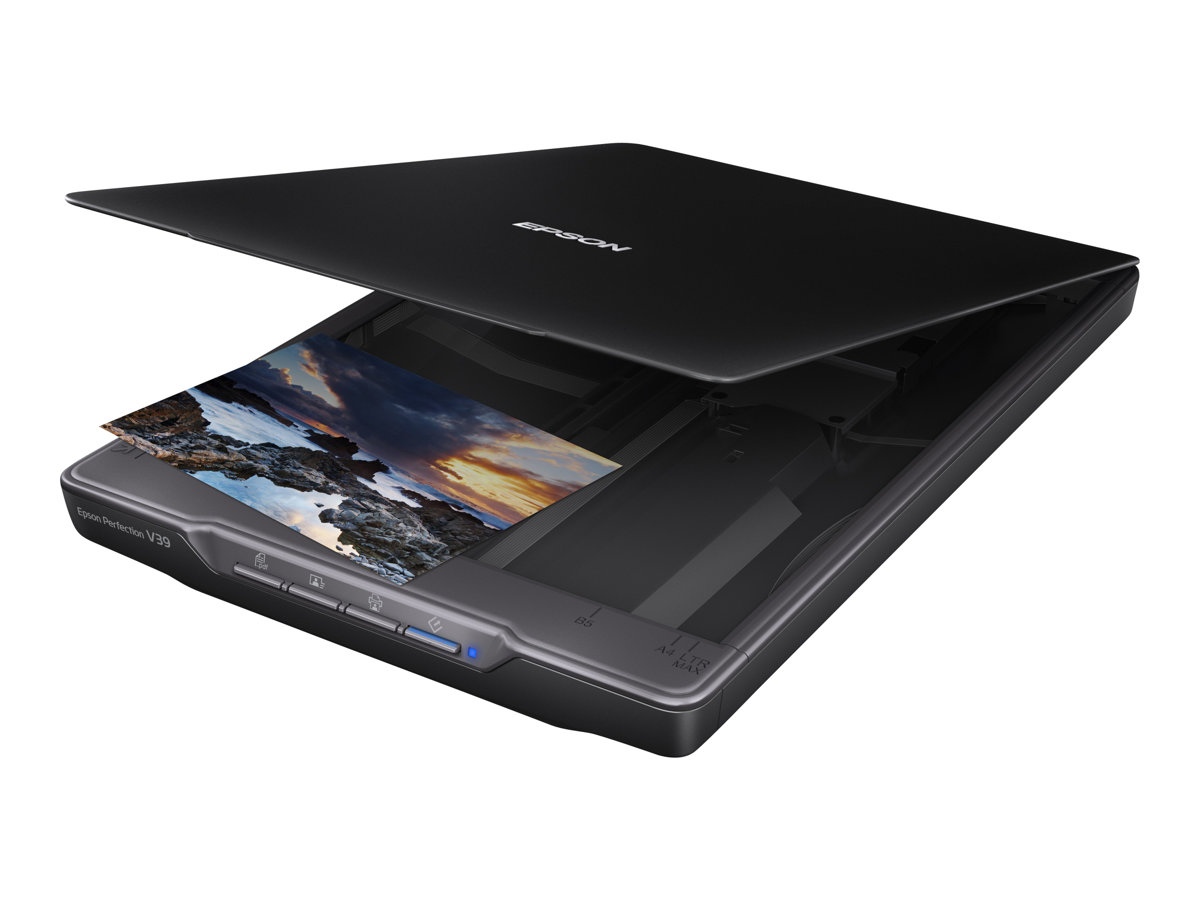 Product
Format
Optical Resolution
Connectivity
Color Depth
Price

Our choice


Epson Perfection V600


A4
6400 dpi
Hi-Speed USB 2.0
48-bit Color or 16-bit Grayscale
Click for more info

Epson Perfection V800


A4
6400 x 9600 dpi
Hi-Speed USB 2.0
48-bit Color
Click for more info

Epson Perfection V39


A4
4800 dpi
Hi-Speed USB 2.0
48-bit Color or 16-bit Grayscale
Click for more info
Let's have a look at each product in particular.
Epson Perfection V600
The v600 is our favorite Epson flatbed scanner. this is because it is a great balance between scanning speed, image resolution and price. it has a CCD sensor that can output digital images at an optical resolution of 6,400 DPI. this is without any interpolation. it takes just 6 seconds to scan a photo at 300 dots per inch. this image sensor is also backed by an efficient ReadyScan LED lamp that has 0 warm-up time.
You can connect this Epson flatbed scanner to your Windows PC or Mac through a USB 2.0 port and Epson provides Twain drivers available for download on their website.
In the box you will get this softeare package: Epson Easy Photo Fix, Epson Copy Utility, ArcSoft PhotoStudio, ABBYY FineReader Sprint Plus OCR (Optical Cahracter Recognition). it has everything for everyone: if you are scanning photos then you can use the Epson easy photo fix software which will apply digital ICE features like scratch or dust particles removal from your old photos. If you want to scan documents you can use the ABBYY to convert bitmap, JPEG, TIFF and PNG files to searchable PDFs, word docs, Excel XLS and epub format. The epson scanning software also provide some image enhancement features like automatic orientation and scan size detection. The software also provides One Touch photo restoration.
This Epson flatbed scanner can also scan film negatives as it comes with two sets of film holders. you can scan 35 mm negatives, 35 mm slides and also medium format film. You can also find some additional holders on Amazon for a small price if you want to be more productive.
On the front you will find four customizing buttons. You have a dedicated button for scanning a document and sending it by email. there is also a copy button that can send the scan directly to an Epson printer. There is also a dedicated scan-to-PDF button.
Epson Perfection V800
The Epson V800 is another Epson flatbed scanner favorite of ours. If the Epson V600 was the best compromise, this is no compromise. It is dedicated to provide the best image quality. This scanner also has an image resolution of 6,400 DPI, but it also has a dual-lens system for the CCD which means it will capture sharper and more detailed images in the same amount of pixels. The principle is no different than the one with megapixels on digital cameras. The sensor also has a 4.0 D-Max which means that the scanner will be able to output very deep nuances of black. This is something that is often overlooked but it makes a huge difference.
The Epson V800 flatbed scanner can also scan film and it comes with four types of film holders: There is one for 3 strips of 35mm film negatives that can hold a total of 18 frames. There is one for 35mm mounted slides in which you can put 12 frames, a medium format one that cand hold 1 big frame and one for a 4 by 5 inch frame.
The scanner is compatible with Windows 10 PCs and Macs. You connect it to them through its USB 2.0 port. The highlights of the software package are: Epson Scan, LaserSoft Imaging SilverFast SE software and the ABBYY FineReader Optical Character Recognition software. Silverfast is only available on high-end Epson Scanners like this one and it has some advanced features like creating 64-bit HDR, Descreening to remove any Moire effect (screen door effect), selective RGB color to grayscale conversion, frame detection and Nega-fix accurate negative to positive color conversion.
Epson Perfection V39
The Epson Perfection V39 is the best bargain you can get with an Epson Flatbed Scanner. It offers a 4800 DPI pixel density with no interpolation from its CIS (Contact Image Sensor) and costs almost 10 times less than the V800. You get plenty of pixels per inch for even the most demanding photos. This flatbed scanner was designed to be low-cost and slim. It is just 1.5″ thick and it is also very lightweight at just 3.4 lbs in weight. It takes about 10 seconds to scan a document at 300 dpi. This Epson Flatbed Scanner comes with a 48-bit color depth when you scan in color and 16-bit when you scan in grayscale. You can scan any paper size up to A4.
The V39 cannot scan film negatives, it doesn't come with any film holders or software option for detecting frames and processing them. It could, because the resolution allows it, but Epson decided that, most probably from a marketing perspective.
This Epson Scanner has similar software to the V600: Epson Easy Photo Fix, Epson Event Manager, Epson Copy Utility, Epson Easy Photo Scan, Epson Document Capture Pro, ArcSoft Scan-n-Stitch Deluxe (Windows only). You don't get an ABBYY license for OCR, but instead you use the integrated OCR in the Epson Scanning app which is and this is true, inferior. The Easy Photo fix is included, a software which can improve the scanned images in ways like you would do with Photoshop. You can make the colors more vivid, the text sharper so that you output high-quality scans. You can also sync your scanned images with Google Drive, Evernote and Dropbox so they get uploaded automatically. It is compatible with both operating systems, Windows 10 and Mac OS X.
The V39 is a bargain for all that it offers.
Which is the best Epson Flatbed Scanner?
The Epson V600 is the best all-in-one: It scans photos at an excellent resolution, it can scan film and is pretty speedy when you scan documents with it. So it can do a lot for a reasonable price. If you want a good all rounder, then the V600 is the right Epson Flatbed Scanner for you. If you are a photographer or graphic artist and you need the best quality you can get, then the V800 is a solid choice and the V850 as well if you consider that the extra money is worth it. We did not. If you just want a scanner that will get the job done right but you are not obsessing over quality or film scanning, then the V39 will make you a happy user.