The Brother DS-720D is a great portable scanner that can scan 10 images per minute and comes with duplex scanning. It has a CIS sensor that can scan at up to 600dpi resolution, it has a TWAIN interface for integration with custom apps.
The good:
Can scan plastic ID cards, Duplex feature, Scan to FTP, TWAIN interface and OCR
The bad:
No WiFi, not that good with business cards
So, how much does a Brother DS-720D cost today? Click to find out.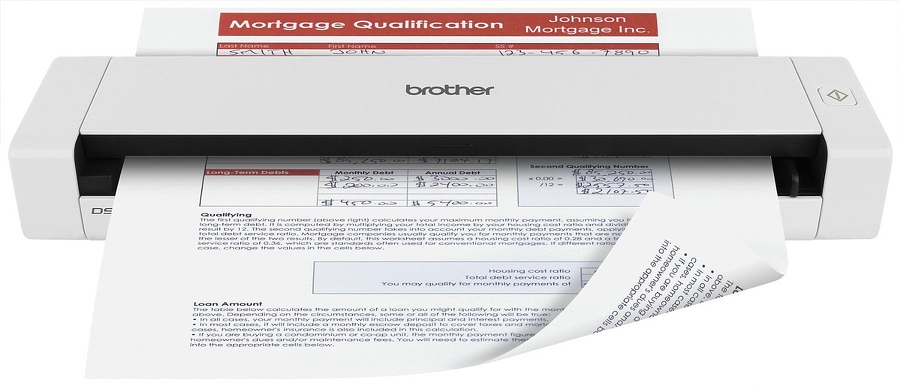 Brother DS-720D Specifications
| | |
| --- | --- |
| Images / Minute | 10.6 IPM |
| Format | A4 |
| Resolution | 600 dpi |
| Connectivity | Hi-Speed USB 2.0 |
| Interface | TWAIN, SANE |
| Max. document size | 8.5 in. x 32 in. (215 x 812 mm) |
| Sensor type | Dual CIS |
| Paper thickness | 16 lb. To 28 lb. (23.68 – 41.44 gsm) |
| Dimensions | 11.4 in. x 1.6 in. x 2.6 in. (28.9 x 4 x 6.6 cm) |
| Weight | 1.1 lb. (0.49 kg) |
| Included Software | Nuance PaperPort 12 SE (Windows), Presto! PageManager 9 (Mac), Pres-to! BizCard 6, DSmobileCapture, Button Manager V2 (Windows) and BR-Receipts |
| Driver | Download Driver |
| Manual | Download User Manual |
| Brochure | Download Brochure |
| Features | Duplex Scanning, Automatic Color Detection, Automatic Image Rotation, Automatic Image Cropping, Background Removal, Automatic Deskew, Punch Hole Removal, OCR included, ADF Tray |
What's so special about it?
The Brother DS-720D is one of the best mobile scanners that is conveniently suitable for the mobile user who wants a powerful scanner. It is easier to use while capturing numerous documents such as – two-sided business documents, as well as receipts, business cards, embossed plastic cards, invoices, photographs, and more. It scans at up to 1200×1200 dpi resolution (interpolated) and 600×600 dpi (optical), with fast color and black scan speeds of up to 8ppm, 5ppm duplex‡. It is pretty smaller in size, and the valuable suite of scanning software makes it a great fit for any daily uses in home offices and desks and so on. However, it is a highly portable mobile scanner and is powered via the included USB cable – no wall outlet is required for operation. DS-720D is a lightweight mobile scanner with single-pass duplex capability, ideal for quickly capturing documents, photos, receipts, laminated IDs, and business cards. At just under 11.5 inches long and under 1 pound in weight, Brother's DS-720D scanner is perfect for the mobile professional who needs a powerful scanner that will slide right into a briefcase or business bag. It scans at speeds up to 8 pages per minute simplex (single-sided scanning) or 5ppm duplex (double-sided scanning).
Brother DS-720D Datasheet Explained
DS-720D can scan at 300 pixels per inch (PPI) and black and white mode and takes an acceptable 12 to 13 seconds for scanning one page in both simplex and duplex. It can efficiently scan and manage single-sided materials at up to 8 pages per minute and double-sided materials at up to 10.6 IPM in both color and black/white.
DS-720D portable scanners will capture high quality scanned documents directly to your desktop/Laptop anytime whenever and wherever you want. With a single touch of a button, it converts hard copies to digital files quickly and easily. This also can scan various media formats from plastic cards to A4 documents.
The brother DS-720D mobile scanner is included with the best dpi covering optical Resolution of 600 × 600 dpi resolution. The Brother DS 720D mobile color page scanner produces black & white and color scans at a significant speed.
The speed at which it scans is at an acceptable level and the images come out very clear. Also, the fact that for its intense USB support it takes little less time to transfer files anywhere and anytime whenever you want. The USB version 2.0 and later version is supported by DS-720D and has easy and built-in connectivity solution to old and modern PC as well.
The DS-720D portable scanner supports the standard drivers namely TWAIN and SANE to help enable easy integration with Windows, Mac, and Linux operating systems. It is a digital portable scanner that is easy to operate and is powered by USB, and it can scan documents as large as 8.5″ wide × 32″ long.
The dual sensor type used here in this portable scanner is to print high-quality images with blazing speed and with accuracy.
The thickness of the paper is supported here is 16 lb. to 28 lb. (23.68 – 41.44 gsm). It can easily print a desktop document and business card management, OCR, and receipt management programs..
Features for Productivity
Brother DS-720D Mobile has a duplex scanning system that can print two sides of the page in one instance. Such a facility of this reduces time and consumes less energy. Use the single-pass duplex mode for fast, accurate results that let you get back to business.
Although it does not have an automated color detection ability it can print color pages very smoothly. However, this scanner also does not have any auto rotation facilities inside it. For the unavailability of the smart cropping, this device has no power to recognize the pages whether it is A4 or A3. All of the pages are set manually..
Quality of images
Brother DS-720D has no advanced printing features such as auto crop & deskew for Paper Size. That is this scanner cannot align a document that is not straight. Besides, when printing a document or file which has a punch hole, it cannot recognize this and instead of filling that hole with the white mark, it goes with a spot. But, it has OCR support which means that it can create a searchable document from the image, most of the cases in PDF or Word. .
Brother DS-720D accesories unboxing
Automatic Document Feeder Tray is one of those significant features which make a scanner an effective one. And DS-720D has no pre features enabled.
Featuring a sleek new design measuring under 12″ in length. It can easily scan documents of any printable size especially A3, A4, etc, photos, receipts, business and embossed plastic cards, business card size up to 8.5x 32.
The height of the Brother DS-720D is 11.5 inches long and under 1 pound in weight, is perfect for the pro mobile user who needs a potent and effective scanner that will fit anywhere from small briefcase to office bags.
The bundled software suite of The DS-720 includes a package of scanning software to help you manage and distribute information as well as reduce the need to store and reference hard copy documents..
Brother DS-720D driver, manual & brochure
Drivers are ready for different latest OS. To find the right driver for your PC please visit this link-https://support.brother.com/g/b/downloadtop.aspx?c=us&lang=en&prod=ds720d_all If you need complete installation guide, here is the link of the manual – https://download.brother.com/welcome/doc003185/cv_ds620_use_usr_d.pdf If you are still looking for many technical details find the brochure from this link – https://www.brother-usa.com/-/media/brother/product-catalog-media/documents/2019/10/07/11/03/dsmobile-720d-scanner-brochure.pdf .
What do real users say?
Let see how much our happy customers like us online – "It can easily scan a lot of items very quickly." "Very much happy with the decision of this buying." <!–
–>