Brother ADS-1250W is a wireless compact portable scanner. This device is capable of reaching 50 images per minute, it can scan 2-sided sheets in a single pass with it's dual CIS, 600 dpi sensor. Your documents can be scanned to a USB drive, to a PC, but also to your Google Drive or DropBox. It's also equipped with an OCR feature, so you can create searchable PDF files and Word documents out of your scans.
The good part
: Wifi Connection, 600dpi, Duplex scanning, Cloud integration, OCR included.
The bad part
: Frequent paper jams, included software comes with too much stuff you don't need.
How much does the Brother ADS-1250 cost now?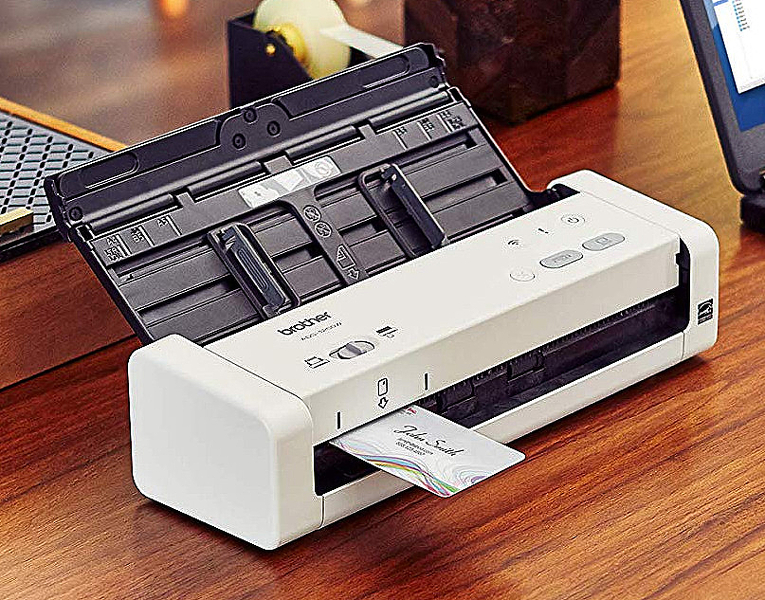 Product
Images / Minute
Format
Connectivity
Max. document size
ADF Tray
Weight
Price

Brother ADS-1250W


50 IPM
A4
Wireless 802.11 b/g/n, Micro USB 3.0
8.5 in. x 34 in. (215 x 863 mm)
Yes
3.7 lb. (1.67 kg)
Click for more info

Scansnap S1100i


16 IPM
A4
USB 3.1, Ethernet LAN
8.5 in. x 34 in. (215 x 863 mm)
No
0.77 lb. (0.35 kg)
Click for more info

Popular choice


Epson ES-60W


30 IPM
A4
USB 2.0, Wireless 802.11 b/g/n
8.5 in. x 72 in. (215 x 1828 mm)
No
0.66 lb. (0.3 kg)
Click for more info

Brother ADS-1500W


36 IPM
A4
Wireless 802.11 b/g/n, Hi-Speed USB 2.0
8.5 in. x 34 in. (215 x 863 mm)
Yes
3.5 lb. (1.58 kg)
Click for more info
Brother ADS-1250W Specifications
| | |
| --- | --- |
| Images / Minute | 50 IPM |
| Format | A4 |
| Resolution | 600 dpi |
| Connectivity | Wireless 802.11 b/g/n, Micro USB 3.0 |
| Interface | TWAIN, WIA, ICA, SANE |
| Max. document size | 8.5 in. x 34 in. (215 x 863 mm) |
| Sensor type | Dual CIS |
| Paper thickness | Plain Paper, Thin Paper, Thick Paper, Thicker Paper, Recycled Paper, Business Card, Plastic Card |
| Dimensions | 11.8 in. x 3.3 in. x 4.1 in. (29.9 x 8.3 x 10.4 cm) |
| Weight | 3.7 lb. (1.67 kg) |
| Included Software | Nuance PaperPort SE with OCR for Windows, Brother iPrint&Scan, Power PDF |
| Driver | Download Driver |
| Manual | Download User Manual |
| Brochure | Download Brochure |
| Features | Duplex Scanning, Automatic Color Detection, Automatic Image Rotation, Automatic Image Cropping, Background Removal, Automatic Deskew, Punch Hole Removal, OCR included, ADF Tray |
What's so special about it?
OCR included All portable scanners create pictures of your document. That's why; you cannot reach, find out and change the material of your scanned document. OCR gets all images to generate a findable document through these images, as in PDF or word. You can also use it to create excel files as well as eBook. ADF Tray A very useful feature of this product is that is an automatic document feeder tray. With this, scanner feeds stack documents in an automatic way during the scanning procedure. It enhances productivity and there is no need to manually feed the papers or documents. Some moveable scanners have this useful feature and some do not have. It increases the physical size of the scanner, so it is the reason that small scanners do not have it.
Brother ADS-1250W Datasheet Explained
Frequently, the speed is estimated in image per minute. Image is one side of paper sheet mostly (almost in all cases). The duplex scanner has the ability to scan both sides simultaneously in an automatic manner. So it can scan two images simultaneously.
Format Mostly moveable scanners have up to A4 size. To define the scanning area the developers use ISO format. Mostly, the definite scanning size may be larger to some extent than ISO format. For instance, A4 is 210 by 297 mm then the scanning size will be 220 by 310 mm.
Resolution A 300 dpi optical resolution is taken into account an ordinary scanning resolution. It is estimated that a moveable scanner ought to be able to achieve it. A scanner having a capability of 400 dpi is really nice. A scanner having 600 dpi can offer an outstanding scanning resolution. For the low-quality scanner, you should look forward to a minimum of 200 dpi. Less than 200 dpi cannot give you good resolution, particularly for OCR..
Features for Productivity
Connectivity Scanners are limited to PC and laptop because most scanners have USB connections. An Ethernet or wireless connection is absolutely a plus point. It enables the users to scan through a network. It also enables to scan through moveable and smart devices directly, like smartphones.
Interface For developers, the driver interface is most significant. Software developers can easily assimilate the driver in a modified application with ISIS and Twain.
Maximum Document Size It can be connected to the format in a direct way. The format having an aim to check the accurate scanning area and corresponding it with ISO format. The accurate scanning area is the precise utmost document size. With it, users can pass through the scanner.
Sensor Type Mainly, there are 2 types of sensors CIS and CCD. CCD is measured to be of better quality. CCD does not have a requirement of perfect contact with document capable to scan the document without any doubt. It also enables the users to capture documents which are wavey. The contact image sensor (CIS), frequently needs the document to have a touch with scanning glass completely to get a better scan. CMOS and CIS sensors not much costly and have lightweight..
Quality of images
Paper Thickness The thickness of a paper or document is important for the scanning of a paper or document. Better thickness enables users to get a better scan. Scanning of a paper or document does not require standard paper always; users can also scan thicker paper. Better thickness enables the users to scan the damaged and bad conditioned documents easily.
Duplex Scanning A very rare feature of this product is that it can scan both sides of the paper or document simultaneously. With this, the users can increase the productivity of a scanner in less time and easily.
Automatic Color Detection Another key feature of this product is that it detects the colour in an automatic way. It enables the users to scan the document without fixing any colour. Software and device decide the scanning of the required document or paper. Automatic colour detection is an important feature that enables the users to mixed coloured document without manually change between the settings.
Automatic Image Rotation A document which is required to be scan may be a landscape or a portrait.
What is Automatic Image Rotation? As you know, documents are sometimes portrait and landscape. This feature makes the driver of the scanner decide the final layout of the document, so you don't have to manually switch between portrait and landscape. .
Brother ADS-1250W accesories unboxing
Automatic Image cropping You cannot find files always A4 or A3. But scanners provide you with the ability to scan the complete external. The driver of the scanner will directly analyze the width and height of file and remove the unnecessary area of your document according to the canning.
Background removal When a file contains a clear background overall, and you passed it through the scanning process due to any reason, then it is the possibility that its background will not be clear. In this way, it will make more clear and useful your document for an effective looking. When your document will have a clean appearance it will boost up its effectiveness.
Automatic deskew The deskew program brings into line documents and files that are not supportive to scan directly. This function performs as an algorithm and calculates directly the exact alignment of the paper and brings into line it as suitable.
Punch entire removal This function pierced the files and documents. As sometimes you have to punch your files to set them in a folder or to archive them. Without this function, your paper will be black after scanning. This tool will help you to detect the punched hole in the document and set it white as for clean looking..
Brother ADS-1250W driver, manual & brochure
.
What do real users say?
<!–
–>