Brother ADS 1200 series is yet another portable scanner, perfect for small and medium offices. It has USB 3.0, it comes with OCR included from Nuance and it can digitize 50 images in a minute.

The good: 50 images per minute speed

The bad: No WiFi, paper jams sometimes in the ADF.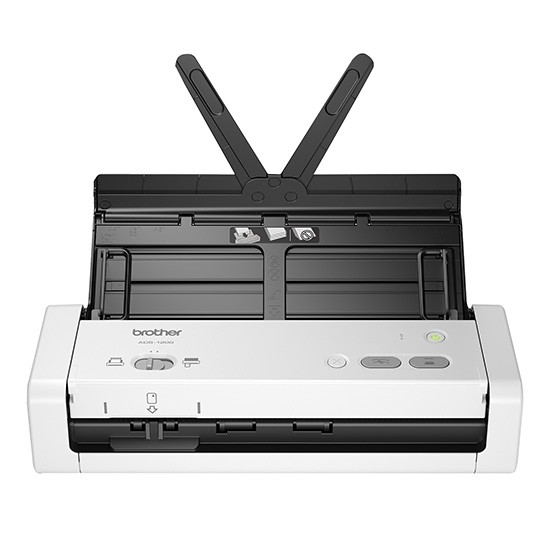 Product
Images / Minute
Format
Connectivity
Max. document size
ADF Tray
Weight
Price

Brother ADS-1200


50 IPM
A4
Micro USB 3.0
8.5 in. x 34 in. (215 x 863 mm)
Yes
3.3 lb. (1.49 kg)
Click for more info

Scansnap S1100i


16 IPM
A4
USB 3.1, Ethernet LAN
8.5 in. x 34 in. (215 x 863 mm)
No
0.77 lb. (0.35 kg)
Click for more info

Popular choice


Epson ES-60W


30 IPM
A4
USB 2.0, Wireless 802.11 b/g/n
8.5 in. x 72 in. (215 x 1828 mm)
No
0.66 lb. (0.3 kg)
Click for more info

Brother ADS-1250W


50 IPM
A4
Wireless 802.11 b/g/n, Micro USB 3.0
8.5 in. x 34 in. (215 x 863 mm)
Yes
3.7 lb. (1.67 kg)
Click for more info
Brother ADS-1200 Specifications
| | |
| --- | --- |
| Images / Minute | 50 IPM |
| Format | A4 |
| Resolution | 600 dpi |
| Connectivity | Micro USB 3.0 |
| Interface | TWAIN, WIA, ICA, SANE |
| Max. document size | 8.5 in. x 34 in. (215 x 863 mm) |
| Sensor type | Dual CIS |
| Paper thickness | Plain Paper, Thin Paper, Thick Paper, Thicker Paper, Recycled Paper, Business Card, Plastic Card |
| Dimensions | 11.7 in. x 3.4 in. x 3.9 in. (28.4 x 8.3 x 10.4 cm) |
| Weight | 3.3 lb. (1.49 kg) |
| Included Software | Nuance PaperPort SE with OCR for Windows, Brother iPrint&Scan, Power PDF |
| Driver | Download Driver |
| Manual | Download User Manual |
| Brochure | Download Brochure |
| Features | Duplex Scanning, Automatic Color Detection, Automatic Image Rotation, Automatic Image Cropping, Background Removal, Automatic Deskew, Punch Hole Removal, OCR included, ADF Tray |
What's so special about it?
This scanner is admired for its compact and space saving design and fast scan speeds together with its ability to handle a variety of documents. It can scan single and double sided, documents of both color and black and white texts in a single pass at up to 25 ppm. It also has a dedicated card slot to scan plastic cards, plus 20-page capacity, auto document feeder for multi-page scanning. It powers through a Micro USB 3.0 connection to a laptop or PC makes it highly portable for mobile professionals. With this device, you can start scanning immediately without installing software. It also has mass storage support via scan to USB that allows scanning and retrieval of files simply by opening the drive on your connected PC. The scanner supports multiple "Scan to" destinations such as File, OCR, Email, Mobile Devices and USB flash memory drive to help optimize your business processes. It can enhance scans with automatic color detection/adjustment, image rotation (PC only), bleed through prevention / background removal, text enhancement, color drop. It supports Windows, Mac® and Linux® environments and offers TWAIN, WIA, ICA, and SANE drivers. The included software suite provides document management and OCR software that can optimize images and text for storage/classification, thereby making the scanned images searchable. This gadget can handle a variety of documents automatically by easily scanning documents up to 34″ long, receipts and photos through its 20-page capacity auto document feeder. It comes with 1 year limited warranty with free online, call, or live chat technical support for the life of your scanner.
Brother ADS-1200 Datasheet Explained
This is a super-fast scanner capable of doing 50images per minute as opposed to the average 30IPM by products of similar price.
It has a scanning area of A4 and will scan upto 10-15% larger than A4. This means it will accept maximum document size of 8.5inx34in (215x863mm) Built with contact Image sensor requiring the document to touch the scanning glass for perfect scan, the device produces a high quality images given its 600dpi resolution.
In terms of interface compatibilities, the device has TWAI, WIA, ICA and SANE interfaces that is more or less similar to other portable scanners of same price.
This scanner allows the use of plain paper, thin paper, thick paper, thicket paper, recycled paper, business cards and plastic cards with thickness ranging from 35-270 gsm.
However, those who prefer wireless connectivity will not like this scanner since it only provides for micro USB 3.0 as opposed to products of similar price that allow USB 2.0, USB 3.0 and wireless 802.11 b/g/n connectivity.
.
Features for Productivity
Due to its duplex scanning capabilities, this device is able to scan both sides of a document at the same time thus enhancing productivity and reducing time and effort needed.
It is amongst the 70% of portable scanners with similar price that has automatic color detection capabilities hence you can scan without any color preset and the device and software decides how the document should be scanned.
The scanner can also detect the document layout and automatically rotate the image to the applicable orientation.
However, this scanner cannot automatically crop images to preferred size since it has no automatic image cropping functionality.
The above limitation is all the same compensated by the device's capability to clear and optimize image background and emphasize the sharpness of the scanned image, thanks to its background removal feature.
.
Quality of images
The scanner can automatically deskew the images that got scanned with misalignment due to feed roller faults or operator's failure to properly align the source document.
The machine will also improve the image quality by removing the punch holes, a feature the only 50% of similar priced scanners have.
It has OCR included hence it can generate searchable documents from the scanned image in formats such as PDF or word, Excel files and e-books.
.
Brother ADS-1200 accesories unboxing
This gadget is packaged complete with Automatic Document Feeder (ADF) Tray to enable stacking of up to 20 documents in line for scanning. The scanner is itself a smooth block size dimension of 11.7inx3.4inx3.9in (28.4×8.3×10.4cm).
It weighs 3.3il (1.49kg) and has preinstalled software such as Nuace paperport SE with OCR for windows, Brother iPrint &Scan and power PDF.
.
Brother ADS-1200 driver, manual & brochure
This device has necessary drivers such as https://support.brother.com/g/b/downloadtop.aspx?c=as_ot&lang=en&prod=ads1200_all installed but could as well be downloaded and updated from the manufacturer's site.
In the package, you will also find a user manual providing tips and tricks that can really increase productivity and an information brochure containing datasheet facts and a lot of useful technical details.
.
What do real users say?
Booting time, slow online support response time and frequent paper jam has however been sited as major concern by over 30% of users. Nonetheless, the pros of the device far much outweighs its cons as is justified by a resounding rating at Amazon. At Amazon, this product has an overall rating of 3.5 out of 5 with most users liking its portability at 4.1 out of 5, its ease of use reviewed at 3.5 out of 5 and the technical support rated at 2.8 out of 5. However, a massive 34% of the users are unhappy with the product and its functionality with the product eliciting mixed reviews. Overall, most users are pleased with its duplex single scanning feature as well as the software flexibility. The wireless connectivity is another hugely fancied feature. On the other hand the below two star raters site the difficulty to set it up and connect to network, slow boot up time, frequent paper jams, and little online support for their frustrations with the device. <!–
–>