The Brother ADS-1000w is a portable scanner that that can scan to a USB flash drive and store the files in Word and PDF format using OCR. This is a Compact, full color scanner with Duplex and Wireless Networking capabilities.

The good: Scan to USB, Duplex, WiFi included, OCR included.

The bad: ADF tray jams sometimes, software is a bit too bloated with stuff that you might not need.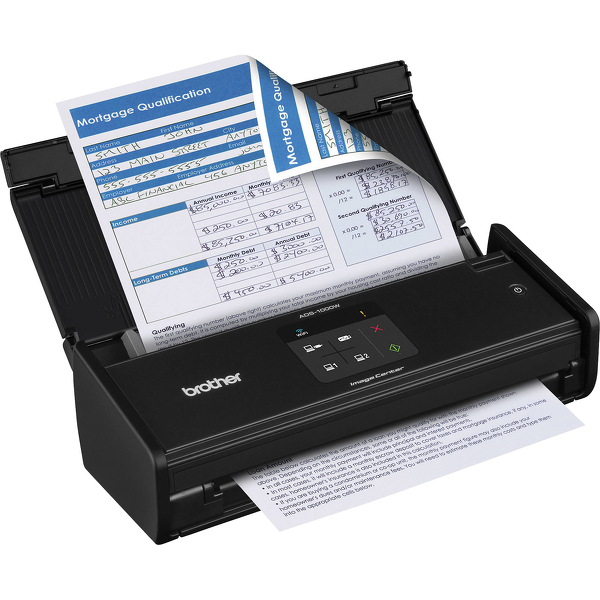 Product
Images / Minute
Format
Connectivity
Max. document size
ADF Tray
Weight
Price

Popular choice


Brother ADS-1000W


32 IPM
A4
Wireless 802.11 b/g/n, Hi-Speed USB 2.0
8.5 in. x 34 in. (215 x 863 mm)
Yes
3.3 lb. (1.49 kg)
Click for more info

Brother ADS-1500W


36 IPM
A4
Wireless 802.11 b/g/n, Hi-Speed USB 2.0
8.5 in. x 34 in. (215 x 863 mm)
Yes
3.5 lb. (1.58 kg)
Click for more info
Brother ADS-1000W Specifications
| | |
| --- | --- |
| Images / Minute | 32 IPM |
| Format | A4 |
| Resolution | 600 dpi |
| Connectivity | Wireless 802.11 b/g/n, Hi-Speed USB 2.0 |
| Interface | TWAIN, WIA, ICA, ISIS, SANE |
| Max. document size | 8.5 in. x 34 in. (215 x 863 mm) |
| Sensor type | Dual CIS |
| Paper thickness | 14 lb. to 53 lb. (20.72 – 78.44 gsm) |
| Dimensions | 11.2 in. x 3.3 in. x 4.1 in. (28.4 x 8.3 x 10.4 cm) |
| Weight | 3.3 lb. (1.49 kg) |
| Included Software | Nuance PaperPort SE with OCR for Windows, Brother ControlCenter2 with OCR for Mac, Presto! PageManager with OCR for Mac |
| Driver | Download Driver |
| Manual | Download User Manual |
| Brochure | Download Brochure |
| Features | Duplex Scanning, Automatic Color Detection, Automatic Image Rotation, Automatic Image Cropping, Background Removal, Automatic Deskew, Punch Hole Removal, OCR included, ADF Tray |
What's so special about it?
It offers high speed scanning of both single and double-sided materials in a single pass and in both color and black/white. It is capable of doing 16ppm. The devise is widely compatible with most OS and can do multi page scanning from its ADF while guaranteeing the best quality due to its high resolutions of 600x600dpi Brother ADS -1000W is highly versatile in its media handling capabilities. It can scan documents, photos, receipts, business and embossed plastic cards, and more, while enabling you to send the scanned images to various destinations such as emails, OCR, FTP, USB flash drive and even mobile devises! You just need to utilize the iPrint&Scan app and you are good to go. Best part of course is its advanced scanning features that enables the user to remove unwanted backgrounds and blank pages, auto crop images, auto image rotation and the deskew support mechanism. This device comes with valuable software suits including desktop document and business card management, OCR and receipt management programs. It has wireless network connectivity with USB interface for local connections. The touch panel display of the scanner is easy to use and gives a nice user interface and experience. Besides, the manufacture is always at your side through online, call or live chats for any technical support needed.
Brother ADS-1000W Datasheet Explained
Brother ADS -1000W compares competitively with scanners of its class. For example, this scanner can do a speed of 32 images per minute as compare to the average of 50IPM by similar products.
It has a scanning area of A4 size and may scan with an enlargement of up to 10-15% larger than A4. The scanner has a maximum document size of 8.5inx34in.
With its 600dpi, it provides an excellent scanning resolution that enables best quality Optical Character Reading. This is far superior to other devices with resolution of between 200dpi to 400dpi and which could be more or less the same cost.
Most portable scanners for similar price have more connectivity options including Hi-Speed USB 2.0, USB 3.0, Compatible and Wireless 802.11b/g/n. This product however, has its connectivity limited to wireless 802.11b/g/n and Hi-Speed USB 2.0.
The wireless feature expands the connectivity to include portable devices such as smartphones not just PCs and laptops.
The scanner can easily achieve integration with customized applications given its broad driver interface such as TWAIN, WIA, ICA, ISIS and SANE.
Concerning its sensor type, the device uses the cheaper and lighter Dual Contact Image Sensor (CIS) as compared to the superior but slightly more costly CCD. This then requires that the document must touch the scanning glass perfectly to achieve a perfect scan.
Additionally, this scanner can allow paper thickness of 14lb to 53lb (20.72-78.44gsm) which means it can accommodate most ordinarily used paper.
.
Features for Productivity
Just like the rest of similar products, this scanner has a duplex scanning feature. This enables it to scan both sides of a document at the same time. This increases productivity and reduces time and effort for any user.
The scanner sadly do not allow automatic color detection, thus if you were to scan mixed color document, you might have to manually change the settings. This may be inconveniencing of course.
This product however, has some nice productivity features such as automatic image rotation, and can decide when to have the image in portrait or landscape layouts, automatic image cropping with installed drivers capable of automatically detecting the size of your document and cropping the scan accordingly.
Users of this device will save a dollar that they may have otherwise spent to have unwanted backgrounds removed. This is because it comes with background removal features that will help clean and optimize your documents thus increasing the sharpness of the scan.
.
Quality of images
The scanner is among the 75% similar products with Automatic Deskew software feature that aligns documents that were not scanned straight for one reason or the other.
This product however, does not support and cannot have the punch holes or perforations in your documents removed.
The scanner is OCR included and can thus take each of your scanned images and create a searchable document in formats such as PDF or Word, excel files, e-books etc.
.
Brother ADS-1000W accesories unboxing
The scanner has a foldable automatic document feeder tray where you will stack documents for it to automatically feed during the scanning process.
You need not to worry about the size of the tray as it is compactly built as part of the scanner and you only need to unfold it to use.
Well, I subjectively consider this device small, sleek and portable given its dimension of 11.2inx3.3inx4.1in (28.4×8.3×10.4cm). It surely will utilize the smallest portion of your worktop area. Moreover, it only weighs 3.3il (1.49Kgs) The device is pre-installed with software such as nuance paper port SE with OCR for windows, Brother Control Center 2 with OCR for Mac, Presto!Page manager with OCR for Mac just like most portable scanners for the same price.
.
Brother ADS-1000W driver, manual & brochure
This device has necessary drivers installed but could as well be downloaded and updated from the manufacturer's website.
In the package, you will also find a user manual and an information brochure.
.
What do real users say?
With an overall rating of 3.5 out of 5, verified users at amazon, review this product as follows; "…..i had no trouble at all installing the software……it worked wirelessly right away." "Because the paper tray is not long enough to support the paper, the paper moves when feeding the scanner and for that reason, the paper is jammed all the time…" "I have been using this scanner for several months so while I do know how to change settings (now), it is unnecessarily complicated…." <!–
–>