2400 DPI is a high resolution, but there are scanners with much more than that. Still, we selected 3 scanners that will guarantee this image resolution and then some and we compare them on specs, performance, customer ratings and software

Here is our list of the 3 best 2400 DPI scanners (These are flatbed scanners. There is no Automatic Feed Scanner that can go past 1200 DPI) : :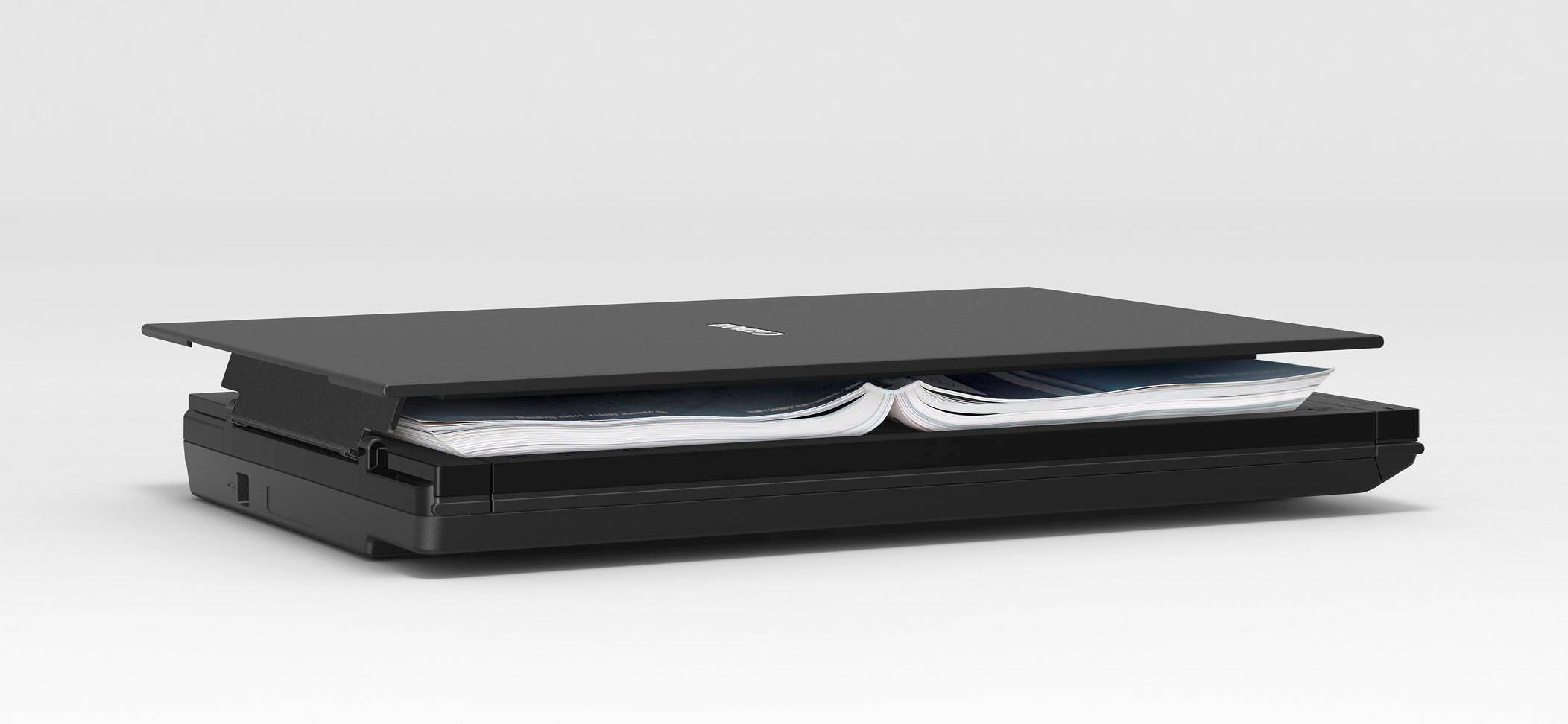 Product
Format
Optical Resolution
Connectivity
Color Depth
Price

Our choice


Epson Perfection V600


A4
6400 dpi
Hi-Speed USB 2.0
48-bit Color or 16-bit Grayscale
Click for more info

Epson Expression 12000XL-GA


A3
2400 dpi
Hi-Speed USB 2.0
48-bit Color or 16-bit Grayscale
Click for more info

Canon CanoScan Lide 300


A4
2400 dpi
USB 2.0
48-bit color or 16-bit grayscale
Click for more info
Let's have a look at each product in particular.
Epson Perfection V600
The Epson V600 is our favorite 2400 DPI scanner in this category. With a CCD sensor that can output digital images and optical resolution of 6400 DPI without any interpolation, wthis scanner can produce high-quality images for a fraction of the price of the most advanced. The sensor is backed up by a ReadyScan LED lamp with no warm-up time. It has always been the best value for money in our opinion. When you scan at 300 dpi, the scan speed is about 6 seconds per scan. The V600 scanner connects to your Windows Computer or Mac through its USB 2.0 port. It has a color depth of 48-bit in color and 16-bit in grayscale. The scanning time for a document at 300 dpi starts from 6 seconds but it extends by a large amount if you go up in resolution.
This 2400 dpi flatbed scanner comes with everything for everyone in terms of software: Epson Easy Photo Fix, Epson Copy Utility, ArcSoft PhotoStudio, ABBYY FineReader Sprint Plus OCR. That means you get a software with Digital ICE features for removing scratches and dust marks reducing time in Photoshop, a software for optical character recognition. The Epson scanning software does a decent job of automatically setting the orientation of the photo, it can crop it and detect the scanning area by itself too. The Epson Scan Software can export into Bitmap, JPEG, TIFF, PCT and PDF. The software and drivers are compatible with both operating systems: Windows and Mac OS X. The ABBYY FineReader app proved to have great text recognition accuracy in our tests. It can convert your documents to Searchable PDF, Doc, XLS and ePub. It can't output to XML-based file formats like DOCX and XLSX though.
It's heavier than the Canon 300 but certainly not as heavy as the Expression with the scanner weighing 9 lbs. The V600 can scan flim negatives and slides and it has a set of holders for that. It supports 35mm and medium format film. It has a 3.4 Dmax score when it comes to density range. That is a decent score, but if you want something with deeper blacks, you need to look at the Expression that has a 3.8 Dmax or the V800 that has a 4.0 Dmax.
Epson Expression 12000XL-GA
The Epson Expression is the second 2400 DPI scanner we are reviewing. This is actually a scanner with a pixel density of 2400 Dots per Inch, not more not less. First of all, what makes this scanner very different from the other two in this article is that it is an A3 scanner, not A4. It can connect to your Windows PC or Mac through its HiSpeed USB 2.0 port.
So this scanner costs 5 times as much as the V600 and doesn't have the same image resolution. What are you paying for then? First of all it's the size. Very few flatbed scanners can scan A3 and they are always much more expensive. What this scanner has that more reasonably priced ones don't is for example a 3.8 Dmax and a Dual-Lens system for its CCD sensor. The 3.8 value represents how deep the blacks are in a scan, the more the better.
Another big difference is the software that comes with this 2400 dpi scanner. You get SilverFast AI, an advanced scanning software with features like 64-bit HDR, Dust and Scratch removal from film, automatic detection of film frames in the scanned image, unsharp masking so that your images look as sharp as possible, advanced negative film to positive conversion, ACR for enhancing the vividness of colors, color correction for specific RGB channels, descreening for removing the Moire screen door effect and much more. The complete software package includes: Epson Scan with Epson Easy Photo Fix Technology, LaserSoft Imaging SilverFast Ai, IT8 Target.
In addition, you also get some calibration targets that work with the i1 X-rite device. This 2400 DPI scanner weighs considerably more than both the V600 and the Lide 400 at 14.2 kg. You buy the Expression model because you're a photographer or you are a graphic artist, because you want the most advanced software, image quality and color accuracy.
Canon CanoScan Lide 300
The Canon Lide 300 is the cheap 2400 DPI Scanner alternative to the other 2 scanners. It costs a fraction of the price. You can buy almost 50 of these Canon scanners for the price of one Epson Expression. The pixels per inch amount is the same, but here it is made possible by a CIS (Contact Image Sensor), not CCD (Charge-Coupled Device). There is USB 2.0 connectivity and that port is used to power the scanner and transfer the data, so you don't need an extra AC adapter. The color depth is 48-bit when you scan in color and 16-bit in grayscale. The Canon comes with TWAIN drivers so that you can scan from any photo app.
The software in the package includes:
Scanner Driver, IJ Scan Utility (Windows) / IJ Scan Utility Lite (Mac) Auto Scan, Document Scan, Photo Scan, Custom Scan, Stitch Scan, and OCR (Optical Character Recognition), ScanGear MP Driver, Quick Menu. It can upload your images straight to your Cloud platform that can be Google Drive, Dropbox, Evernote or OneDrive. The software also has OCR that is integrated in their proprietary software, it's not a 3rd party license for ABBYY. The scanning app can export in the following file formats: JPEG, TIFF, PNG and PDF.
It is also the lightest of the 3 scanners, weighing just 3.6 lbs. This 2400 DPI flatbed scanner comes with a vertical stand, so when you are not using it, you can just put it on the stand. You can even scan when it is vertical, but it's not a very fun experience.
Which is the Best 2400 DPI Scanner?
If you are looking for the best balance between price, quality and features, of course it is the Epson V600. It has great resolution, speed, it can scan film and with a 3.4 Dmax it does a decent job. If you are a professional and you need to scan larger photos sometimes, then we recommend the Epson Expression. It has all the professional features that you may need and it covers most paper sizes. If you are just looking to solve the problem on a budget, then you need to go for the Canon Lide 300. At its extremely low price, it is a bargain.