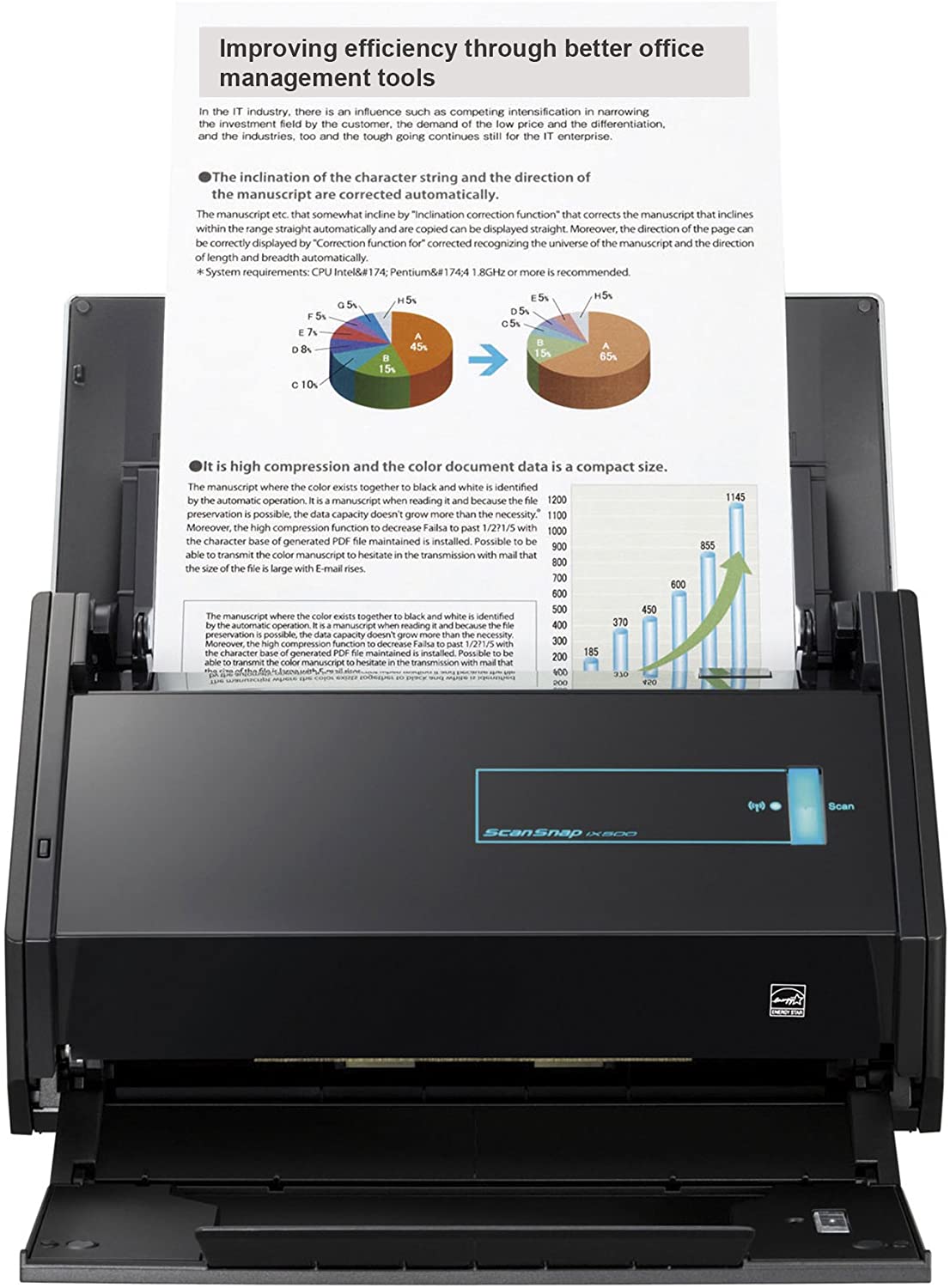 Let's have a look at each product in particular.
Raven Original Document Scanner
The Raven Original is the best A4 document scanner in terms of value for money and the amount of features that you get.
Our favorite feature is the 7″ LCD touchscreen from which you can not only define your scanning settings and scan profiles but you can also post-process the images, by cropping them, rotating the layout orientation or playing with the color balance. None of the scanners listed here have any kind of feature even remotely close. The IX1500 has a touchscreen but not with this level of functionality. When doing photo scanning it is amazing because you can see the scanned photo right there on the screen and adjust it and the experience is unmatched for scanning photos.
The scanner works as a standalone device, you don't need to install any drivers. It connects to the internet, your local network or PC through its built-in Wi-fi connectivity or Ethernet port. It is actually interesting because it has a USB port which you can use to scan to USB flash drives, something that is extremely useful but weirdly you cannot use it to connect to a PC. The Raven Pro comes with TWAIN drivers which you can use to scan directly via USB cable.
The only downside to it is that it is slower than other scanners at its price point. Nevertheless it has a generous ADF tray that can hold 50 A4 pages.
The built-in CIS sensor has an optical resolution of 600 dots per inch. Another downside is that it doesn't have the option to convert the scanned images to JPEG, BMP Bitmap or TIFF digital images.
With a 4.7 rating on Amazon this might just be the best A4 scanner.
Fujitsu Scansnap IX1500
The Fujitsu IX1500 is the second best A4 Document Scanner in our list.
It is an A4 scanner with a scan speed of 30 pages per minute, so its faster than the first scanner we reviewed. The daily scanning volume that is recommended is 400 documents per day. It uses its CIS (Contact Image Sensor) to produce high-quality images at a pixel density 600 dpi together with a 24-bit RGB color depth when scanning in color and 8-bit in grayscale.
The A4-size scanner can connect to your computer either by Wireless connection or via USB. It is compatible with both operating systems, Windows 10 and Mac OS but bear in mind that it doesn't come with TWAIN drivers, it only works through the ScanSnap interface. It can also scan without a computer.
You can sync the software to scan directly to the Cloud to Google Drive, Dropbox or Evernote and you can use the device's own provided cloud storage. If you do decide to buy this scanner it is good to make use of the ScanSnap ecosystem that provides apps for mostly anything you can think of doing with documents.
They bundled an Optical Character Recognition Software from ABBYY and that is one of its main strong points because you can convert the images not only to searchable PDF but also to Microsoft Word documents or Excel spreadsheets which have editable text in them. The bundled software has some features for dust detection and streak reduction which clean the scanned image. The app even tells you which part of the glass is dirty and needs to be cleaned. You can also scan to your mobile device, be it Android or iOS.
What you maybe didn't know is that you can scan A3 on A4 scanners even though the paper size doesn't fit into the feeder. This feature is available on this scanner and what you do is you fold the A3 paper in 2 and then scan the folded A4 paper in duplex mode through the scanner. The software will stitch the two A4 images together into an A3 image. Lovely!
Its automatic feeder can hold up to 50 A4 format documents and it has ultrasonic sensors for multifeed detection but also sensors for length detection. It is recommended that you change the feed rollers every 200,000 scans. That is the only consumable part in the scanner.
Epson ES-400
| Product | Format | Scanning area | Connectivity | Sheets per minute | Images per minute | ADF Size | Daily Duty Cycle | Price |
| --- | --- | --- | --- | --- | --- | --- | --- | --- |
| Epson ES-400 | A4 | 8.27 in x 11.69 in | SuperSpeed USB 3.0 and Ethernet (optional) | 35 | 70 | 50 sheets | 4,000 sheets | Click for more info |
The Epson ES-400 is one of the best A4 document scanners at a low cost. Ironically even though it is the cheapest scanner here, it is the fastest with a scanning speed of 35 pages per minute. This fast A4 scanner has a duty cycle of no more than 4000 A4 documents per day. You can stack up to 50 A4 documents in the automatic document feeder tray. The document feeder isn't that great, users have had a bit of trouble with it.
Even though it is the cheapest A4 document scanner in this list, don't think that it is not a very capable device. It has the speed, the image resolution, a feed roller system that will last for up to 100,000 scans, a USB port and you can also buy an optional Ethernet port so that it's not just a simple USB A4 scanner. The number of pixels that you get for the price is the same, 600 dpi.
It has OCR software in the form of the Nuance OmniPage technology which is similar to ABBYY and also offers more features than you would get if the OCR was integrated into the scanning app. The scanning software can also scan directly to the Cloud, just like with the other scanners and there is a scan to e-mail function.
Then there are the automated image processing features like automatic cropping, edge correction, blank page detection and automated deskew. The A4 paper scanner can also remove the background color of the document, something useful when scanning documents that are old.
With a 4.4 rating on Amazon, this device has proven to be reliable and easy to use by its operators.
Which is the best A4 document scanner?


Our choice is the Raven Original. Given how much you pay for it and how much you get, it is hard to come even close. Sure the Fujitsu IX1500 is a great scanner and if it is the only model available we do recommend buying it, but it is hard to use any other device once you use that touchscreen.

For a low cost option, the Epson ES-400 is your best bet.