You can find a good scanner for accountants quite easily you might think. But there is some science behind it, so we recommend you do a bit of a background check before

Being an accountant, means that you will be scanning various documents, starting from receipts, checks, invoices and also A3 construction drawings ocasionally

I think that besides lawyers, our customers that work in the accounting industry, have the toughest documents to scan, as everybody brings them documents from different sources.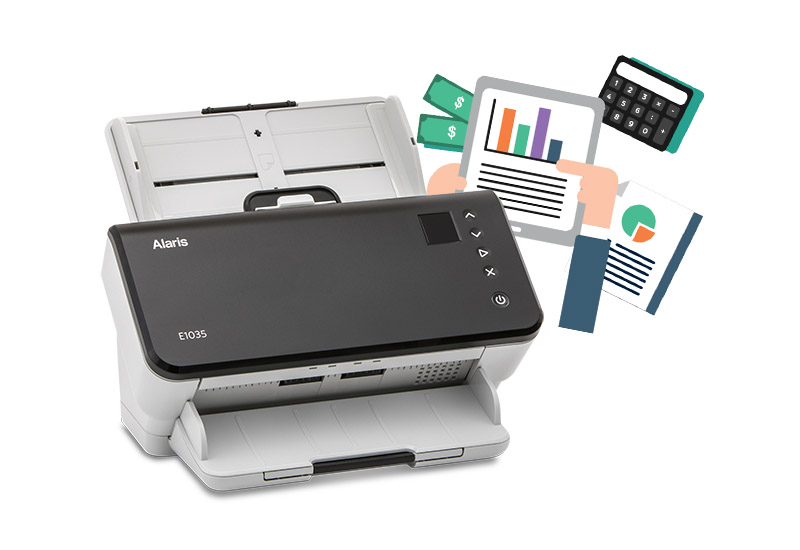 Let's have a look at each product in particular.
Fujitsu fi-7460
| Product | Format | Scanning area | Connectivity | Sheets per minute | Images per minute | ADF Size | Daily Duty Cycle | Price |
| --- | --- | --- | --- | --- | --- | --- | --- | --- |
| Fujitsu fi-7460 | A3 | 11.69 in x 16.54 in | USB 3.0 | 60 | 120 | 100 sheets | 9,000 sheets | Check price on Amazon |
This equipment is capable of scanning an area of 11.69 in x 16.54 in.
A scanner like this one, is scanning with a CCD sensor.
To make sure data goes through quickly, such a scanning equipment is connected using USB 3.0.
The rated speed of the scanner is 60 Pages per minute in simplex mode.
A Long Document Scanning Mode is available with the Fujitsu fi-7460 . It can scan documents of up to 220 in in length .
Kodak Alaris S2040
Documents up to 8.27 in x 11.69 in, can be converted with the Kodak Alaris S2040.
The scanner is operating using a special sensor, that is CIS.
This scanning machine transfers data through USB 3.1.
Expect a scanning speed of up to 40 Sheets per minute in simplex mode.
With the Kodak Alaris S2040 you will scan 160 in long documents, with the special Long Document Scanning Mode .