Photo scanning is what Flatbed Scanners were made to do.They are not a reliable choice for documents because they are not productive. It was always about the high resolution, color depth and dynamic range. In this artice we researched the best scanners to digitize your photo collection

Here is our roundup of the 3 Best Flatbed Photo Scanners that you can buy now.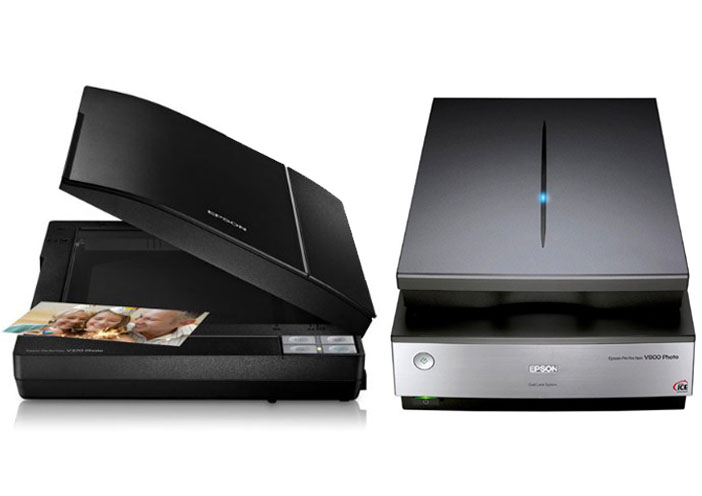 Let's have a look at each product in particular.
Epson Perfection V600
The Epson V600 is one of the most popular flatbed photo scanners on the market, not because it is the one with the best specs, but because it is a great all-rounder for a great price. That is why most users have chosen it as their go-to flatbed scanner for photos. Let me explain why: First of all, the optical resolution on one of these is 6400 DPI. That is the kind of pixels per inch that you get in high-end scanners. Another great thing is that it uses a CCD sensor which tends to be generally better than CIS counterparts in RGB color accuracy and vividness. When you scan in color, you'll get a 48-bit color depth and when you do it in black-and-white (grayscale) you will be accessing a 16-bit palette. The scanning time is decent at 300 dpi with it being 6 seconds.
The V600 can scan photographic film negatives too, it comes with 2 types of film holders, one that can help you 35mm film negatives, up to 12 frames and one for mounted slide film. The software offers some Digital ICE features for removing scratches and dust from them, that is really important because those scratches on film are really noticeable when the picture gets magnified.
Epson provides some good solid software for processing photos: Epson Easy Photo Fix, Epson Copy Utility, ArcSoft PhotoStudio, ABBYY FineReader Sprint Plus OCR. The V600 works with both operating systems, Windows 10 and Mac OS X.
Epson Perfection V800
The Epson V800 is a professional Flatbed Photo Scanner. Even though it has the same pixel density as the V600, this number doesn't tell the whole story. The CCD (Charge-Coupled Device) sensor in the V800 has a Dual-Lens system, which means it will capture sharper and more detailed images at the same image resolution. There is also the issue of black density as the V600 has a 3.4 Dmax and the V800 has a 4.0 Dmax. The Dmax value points to how deep the blacks in the scanned images are. The situation here is just like with digital cameras, you can't capture very bright colors and very dark in the same photo. Some scanners do better than others and the V800 does great at this. The Dmax and the Dual-Lens system will show their worth especially when you digitize graphic art and photo prints. The scan speed on this photo scanner is about 8 seconds at 300 dpi.
Some more advanced photo enhancement software is provided this flatbed scanner for photos: Epson Scan, LaserSoft Imaging SilverFast SE software. Silverfast SE has Photoshop features with things like 64-bit HDR for layering multiple exposures, Adapted Color restoration which works great for old photos to restore the vividness, frame detection for film, unsharp masking for improving the edges in the pictures, Color True negative to positive photo conversion and SRD Scratch and Dust Removal technology. So all the Digital ICE features for photography that you need are embedded in this. A license for ABBYY FineReader Optical Character Recognition is provided too, for converting JPEG, TIFF and Bitmap into searchable PDFs.
So if you are a photographer, then you might want to look past the V600 at the V800 or V850. Why was the V800 included here and not the V850? Simple, because the price difference wasn't enough to convince us that it is worth the extra money. It's just 2 sets of film and supposedly a bit more image quality.
Epson Expression 12000XL-GA
The Epson Expression 12000XL-GA is an A3 Flatbed Photo Scanner. It was actually built for photography and Graphic Arts in general because it has a scanning size of A3. So if you want to digitize large photos then this is the choice for you. Not that there is much choice around. It has a photo scanning resolution of 2400 dots per inch without the use of interpolation. It connects to your computer through the USB 2.0 port. the Dmax from the MatrixCCD sensor on this flatbed photo scanner is actually 3.8 so not as good as the V800. The sensor is also backed by a ReadyScan LED lamp which is present on all the three scanners.
This flatbed photo scanner can also scan photos on film with 2 sets of photographic film holders, similar to the V800. With the complete set you can scan 48 frames of 35mm negative film, 30 slides, 6 strips of medium-format film and 8 frames that are 4 by 5 inches large.
This one has the best Silverfast software for photos that you can get, the Silverfast AI. The difference? Productivity. It can do better streamlining of digital image enhancement. If you have to work with a large quantity of photos, this is the one for you.
The scanner also comes with 2 calibration targets so that you can correct the RGB color accuracy, very helpful.
Which Flatbed Photo Scanner should I get?
So if you just want the best value for your money, get the Epson V600. That has plenty of features and if you are not a professional photographer you won't notice many differences in the scanning output and you can use the extra money to get a better camera or some additional lenses. It's great if you just want to digitize family photos. If you work with high-quality photographs and you are the kind of photographer that shoots RAW, then you will love the V800 because it caters to all your photographic needs. The Epson Expression is much more expensive and that works when you have to digitize photos larger than A4. Only then would I suggest spending the extra money. The paper size can be a deal breaker in this buying decision.