If you are looking for a fast document scanner, you've come to the right place. We researched over 200 models of scanners and we selected 5 really fast ones. Now, obviously, it would have been easy to put a 15.000$ scanner on the top of the list that is indeed the fastest in the world, but the point is to buy a scanner that's within a reasonable budget, is fast, is reliable and has good customer reviews

So there are faster high-speed scanners, just that the ones we selected present great value for money and exceptional speed. Below you will find our top 5 fast duplex document scanners. All of them have the ability to scan over 90 pages / minute. And all are A3 format document scanners for PCs and Macs.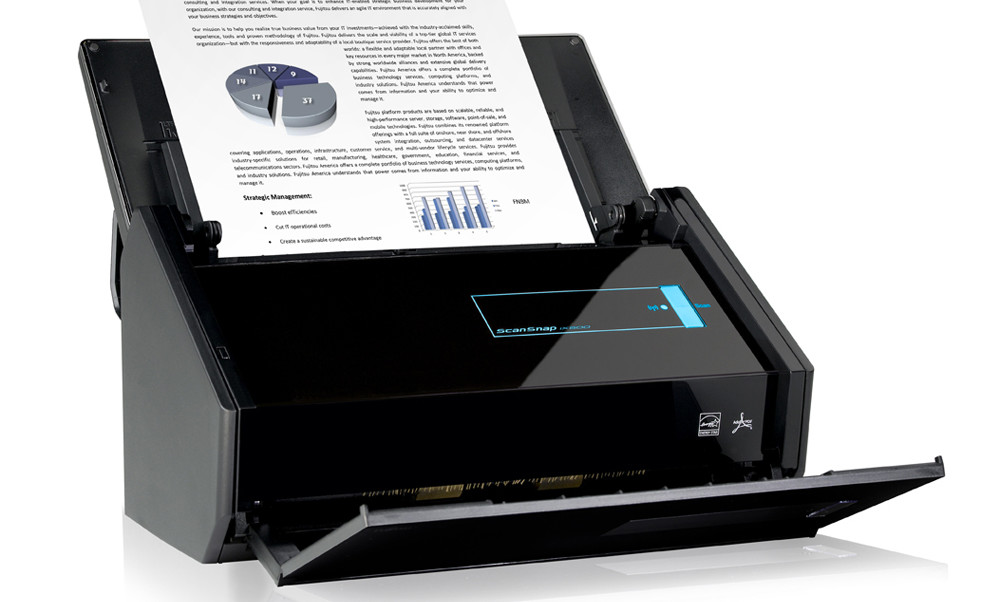 Let's have a look at each product in particular.
Panasonic KV-S5076H
| Product | Format | Scanning area | Connectivity | Sheets per minute | Images per minute | ADF Size | Daily Duty Cycle | Price |
| --- | --- | --- | --- | --- | --- | --- | --- | --- |
| Panasonic KV-S5076H | A3 | 11.69 in x 16.54 in | USB 3.1 | 90 | 200 | 200 sheets | 10,000 sheets | Click for more info |
The first fast duplex document scanner we will be looking at is also our favourite. The Panasonic KV-S5076H can scan 90 documents per minute. As we mentioned before, these are much faster than the normal office document scanner which does around 30 pages per minute. This is really solid speed. If they are double-sided documents it can output 160 images every minute. This is much faster than your average office scanner. You can stack 200 sheets in the document feeder tray and Panasonic claims that you can run this scanner for up to 10,000 pages per day without a problem. It's integrated CIS sensor will output details in images at up to a scanning resolution of 600 dots per inch. That's the standard for document scanners these days and usually in the type of projects that you encounter with the Panasonic, there's no need for more.
Of course, it being a production scanner, it's capable of scanning A3 papers as well as A4 and everything smaller or in between. To transfer all those images at that speed, it uses a USB 3.1 port. We would have liked to see an ethernet network port as well though or maybe it to be a wireless color scanner, but the integrated USB port is super-fast. Obviously, TWAIN and ISIS drivers come as standard with the Panasonic and you also get the Image Capture Plus software with integrated optical character recognition. On the weight side, it's mostly on par with the other scanners in our article at 37.5 lbs. The feed rollers are very hard and reliable, they can last you over 350,000 sheets.
All the Intelligent image correction features have been built into this document scanner: Auto Crop, Auto Rotate, Deskew and the more essential ones for a production scanner like Barcode Recognition, Blank Page Detection, Document separation and Zonal OCR.
Canon DR-G2140
| Product | Format | Scanning area | Connectivity | Sheets per minute | Images per minute | ADF Size | Daily Duty Cycle | Price |
| --- | --- | --- | --- | --- | --- | --- | --- | --- |
| Canon DR-G2140 | A3 | 11.69 in x 16.54 in | USB 3.1 & LAN | 140 | 280 | 500 sheets | 70,000 sheets | Click for more info |
The Canon DR-G2140 is has crazy fast scan speeds at a speed of 140 sheets per minute. Yes, you read that right. 140 sheets per minute. If the documents are double-sided in duplex mode, the scanner can output 280 images every minute using it's super-fast automatic document feeder (ADF). That's almost 5 images per second. You don't even have time to glance at the scans because of how fast it is.
You can put a whooping 500 sheets in it's Automatic Feeder Tray and Canon says that you can scan 70,000 documents each day in normal conditions. It's an A3 production scanner with a dual CIS sensor. These types of scanners usually have CIS. My favourite is the CCD because of it's higher dynamic range and better image quality, which make it great for scanning photos. The longest document that you can put through the scanner is 118 inches long, or at least that's what Canon claims. The feed rollers will last you 300,000 color scans.
Unlike the Panasonic, this scanner has USB 3.1 and an Ethernet port, so you get the best of both: flexibility and speed. You can connect it to a PC and Mac with the help of ISIS and TWAIN drivers and it comes with 2 great scanning apps: CaptureOnTouch Pro and Kofax VRS.
Of course, at this price point it comes with a multi-feed detection system that uses an ultrasonic sensor. Blank page detection also comes as standard with the Canon and also multi-stream which will help you test different scanning profiles on the same document with just a single pass. Its manual feed mode will help you when you have fragile documents and you can't trust the automatic feeder to not break them.
OCR comes as standard with this scanner and that includes Zonal OCR: You can use that for example if you have to process standardized forms, invoices, exams. If they have the same layout, you can easily create a template and process the data into a database.
Fujitsu FI-7800
| Product | Format | Scanning area | Connectivity | Sheets per minute | Images per minute | ADF Size | Daily Duty Cycle | Price |
| --- | --- | --- | --- | --- | --- | --- | --- | --- |
| Fujitsu FI-7800 | | A3 – 304.8 mm x 431.8 mm (12 in. x 17 in.) | USB 2.0 and USB 1.1 | 110 PPM | 220 IPM | 500 Sheets | 100.000 sheets | Click for more info |
The Fujitsu Fi-7800 is an A3 production scanner with a bit different approach. For one, it uses a CCD sensor for high-quality scanning and not a CIS one. CCD means you will be getting better image quality as far as color is concerned. It's not a specialised photo scanner, but it will do a better job with scanning photos and documents.
But let's talk about the speed of this document scanner because this is what matters here. It can do 110 pages per minute. That's extremely fast by any standards, but in this line-up it's right in the middle, not the fastest but not the slowest either.
You can stack almost 500 sheets in the Automatic Feeder Tray and it can handle paper as thick as 209 g/m2. That's enough for even the thickest documents. The big thing about this scanner is that you can scan 100,000 documents per day with it. This is twice what the other scanners are able to scan. Of course for this volume it also offers some productivity features such as multi-feed detection through it's ultrasonic sensors. And because it can take so much paper each day, it also has some really resistant feed rollers. They will last for 600,000 scans before they wear out. That's twice the reliability of the average scanner in this list. You can connect this scanner to both Mac and PC.
It's scanning software offers the option to automatically straighten the scanned images, rotate them, distinguish between black & white and color and even more advanced features such as the multi-stream with which you can test different scanning profiles. These will save you hours and days spent in photo editing software. Using the Scanning Software bundled in, you will get clean images produced by the background removal feature. It can also recognize barcodes. That can help you for example when you want to put metadata inside the files automatically, you can print the barcodes and put them at the beginning of a new file. Barcodes also help to separate different files.
Optical character recognition is shipped as standard and Zonal OCR as well for form processing and invoice processing. It is true that the ScanSnap models will offer you features like Google drive integration, but this model wasn't made for that, because Google Drive can't keep up with the amount of data that this scanner generates. It's made to store images on large Hard-drives.
Alaris Kodak i3400
| Product | Format | Scanning area | Connectivity | Sheets per minute | Images per minute | ADF Size | Daily Duty Cycle | Price |
| --- | --- | --- | --- | --- | --- | --- | --- | --- |
| Alaris Kodak i3400 | A3 | 11.69 in x 16.54 in | USB 2.0 | 90 | 180 | 250 sheets | 20,000 sheets | Click for more info |
The Kodak Alaris i3400 is the slowest sheetfeed scanner in our list, but don't imagine for a second it's slow in reality. At 90 pages per minute, it's a solid product in this category. It can hold 250 pages in it's ADF tray and you can go through 20,000 documents per day using it. It's an A3 scanner with an optical resolution of 600dpi. 600 should be enough to tell even the smallest details on computer monitors. Obviously it has the standard duplex scanning feature.
The long document scanning mode allows you to digitize documents up to 160 inches long. USB 2.0 connectivity lets it down a bit as we were hoping for at least a USB 3.0 connector. WIA and ISIS drivers will ensure that you can integrate it with 3rd party apps in your project. As far as weight is concerned, it's right in the middle at 35 lbs. It's probably the most compact desktop scanner here. Kodak ships it with a software bundle composed of Kodak Capture Desktop and Perfect Page Technology.
What we really like about it is that it has a CCD sensor and that is going to give it more versatility with the type of documents that you can scan. It will do better with photos than a CIS sensor will. For office documents, you won't notice much of a difference.
Kodak recommends that you replace the feed rollers every 250,000 sheets. The integrated features will allow it to automatically adjust your images by orientation, color mode and skew and also separate documents using the special separators but also read QR codes and barcodes. Optical character recognition is shipped with the Kodak together with a form processing feature called "Zonal OCR".
Canon DR-G2110
| Product | Format | Scanning area | Connectivity | Sheets per minute | Images per minute | ADF Size | Daily Duty Cycle | Price |
| --- | --- | --- | --- | --- | --- | --- | --- | --- |
| Canon DR-G2110 | A3 | 11.69 in x 16.54 in | USB 3.1 & LAN | 110 | 220 | 500 sheets | 50,000 sheets | Click for more info |
the Canon DR-G2110 is the last color duplex scanner that is sheet fed and that we'll be looking at. It is a slightly slower and cheaper version of the 2140 but still a strong model nonetheless. The speed is 110 sheets per minute compared to the 140 that you get on the DR-G2140. The sheet feeder tray can stack 500 sheets and the daily volume that Kodak recommends is 50,000 documents per day.
This model has a CIS sensor, so it's not going to do as well with photos as the Fujitsu. It's an A3 scanner but it can scan documents up to 118 inches in length. It has the Kofax scanned image enhancement software built-in which will do everything from automatic image cropping, background cleaning, auto deskew, etc.
The feed rollers are built to last for about 300,000 sheets so if you scan 50,000 sheets per day you will wear them out in 6 days. Don't worry, that's not going to happen. 50,000 sheets per day is extremely hard to achieve.
You get optical character recognition built into it as well with the ability to OCR just parts of the documents and import them into a database.
Our favourite scanners from this list are the KV-S5076H and the Fujitsu 7800. Depending on what your budget is, we suggest you go for one or the other, but to be frank, any scanner that we listed here will do a great job in your digitization project. We didn't include the Fujitsu ScanSnap IX100 mobile scanner, Fujitsu ScanSnap IX500, Fujitsu ScanSnap s1300i portable scanner, Epson Workforce ES-50 portable sheetfed document scanner, Brother Imagecenter ADS-2800W, HP ScanJet models, Kodak Alaris S2060w Canon ImageFormula R40 models because they don't fit the speed benchmark that these models have, even if they are really good scanners. These are scanners built specifically for speed, they are not like the ones you find in all-in-one laser printers. It's true, these production scanners lack a touch screen or other features that make them more easy-to-use. Also, if you were looking for fast flatbed scanners like the Canon CanoScan models or the Epson Perfection V600, check out our reviews on flatbed scanners.