There are more than 100 duplex scanners on the market and we researched them all to save you the time and effort. We will be looking at their speed, how good their automatic feeder is, if they can detect and remove blank pages but also other specificaitons, features and value for money

This is our round-up of the best single-pass duplex scanners that you can get in 2020: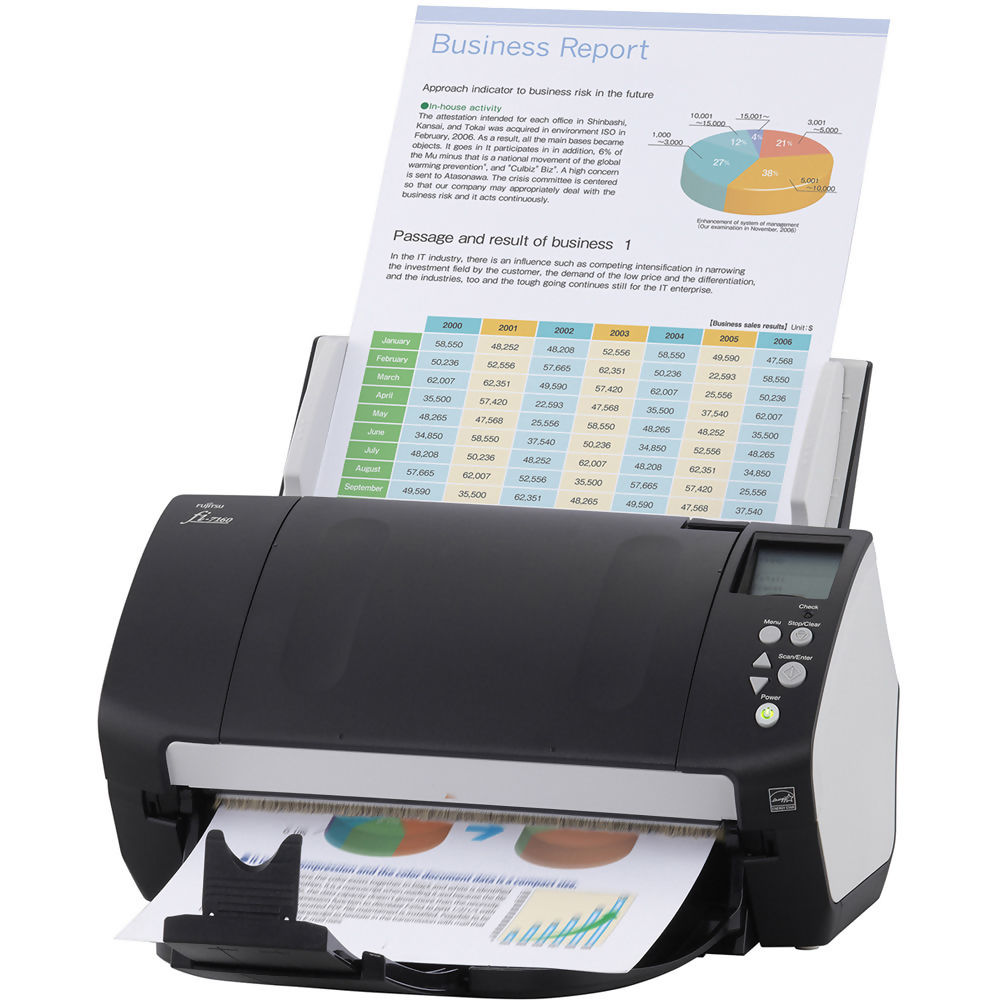 Product
Format
Scanning area
Connectivity
Sheets per minute
Images per minute
ADF Size
Daily Duty Cycle
Price

Our choice


Fujitsu fi-7160


A4
8.27 in x 11.69 in
USB 3.0
60
120
80 sheets
4,000 sheets
Click for more info

Raven Pro Document Scanner


A4
8.5 in. x 11.7 in.
Wi-Fi (2.4ghz), Ethernet
60
120
100 sheets
6000 sheets
Click for more info

Fujitsu Scansnap IX1500


A4
8.27 in x 11.69 in
USB 3.1, WiFi
30
60
50 sheets
400 sheets
Click for more info

Epson ES-400


A4
8.27 in x 11.69 in
SuperSpeed USB 3.0 and Ethernet (optional)
35
70
50 sheets
4,000 sheets
Click for more info
Let's have a look at each product in particular.
Fujitsu fi-7160
| Product | Format | Scanning area | Connectivity | Sheets per minute | Images per minute | ADF Size | Daily Duty Cycle | Price |
| --- | --- | --- | --- | --- | --- | --- | --- | --- |
| Fujitsu fi-7160 | A4 | 8.27 in x 11.69 in | USB 3.0 | 60 | 120 | 80 sheets | 4,000 sheets | Click for more info |
This device is one of the best duplex scanners on the market. Why? Well it has a scanning speed of 60 pages per minute which makes it a fast duplex scanner. If you scan double-sided documents, the speed is going to be 120 images per minute. That is very close to production scanners but it is at a great price.
Its automatic document feeder ADF tray can hold up to 80 double-sided documents. We like this ADF because it works smoothly and if you use it in combination with its blank page detection, if you have a stack of documents, some are double-sided some are not, you don't have to worry about having white pages among them
Another interesting selling point for this ADF duplex scanner is the fact that its CCD (Charge Coupled Device) image sensor can scan documents at up to 1200 dpi optical resolution which is going to help with photo scanning.
This high-speed double-sided scanner has a 4.5 rating on Amazon and it is no surprise. We used the device and it works flawlessly. It has also proven to be very reliable in time.
Raven Pro Document Scanner
The Raven Pro Document Scanner is one of the best duplex scanners that we have ever used and there isn't enough time to write about this device but we'll get through its main strengths.
The first thing you will notice is that it has a giant 7″ LCD screen which is a touchscreen and the main control center for the entire scanning process. You can use it to crop the image that you just scanned, rotate its orientation and adjust the color balance. This is the first scanner that is able to do this.
The next great thing about this duplex document scanner is that you don't need a computer to operate it. It can run completely on its own. How? First of all it has wireless connectivity and an ethernet port. It only needs an internet connection to scan and you're all set and ready to go. It has a USB port and you can connect it to your PC via a USB cable using a TWAIN driver if you want, but the coolest part is that you can plug in a USB flash drive and scan without any computers involved.
The pixel density is the lower than the one on the Fi-7160 with an image resolution of just 600 Dots per Inch coming from the CIS (Contact Image Sensor) but it is still good enough for scanning documents and some photo scanning.
Problems? File formats. You cannot save the digital files in TIFF, BMP Bitmap or PNG format. The other double-sided scanners that we covered in our duplex scanner reviews all have this feature. However, don't think for a second that the Raven software is bad. It is actually extremely well supported and there is a forum where people frequently have requests and report bugs and the scanner firmware is continuously updated so it gets better in time.
This double sided scanner can scan directly to the cloud, either to Google Drive, Dropbox, Evernote or to their own cloud service which is the place where Optical Character Recognition is performed. This is a new model, where you don't have OCR integrated into the device, but rather you do it in the cloud.
Fujitsu Scansnap IX1500
This duplex scanner is very similar to the Raven. It also has Wi-fi connectivity, together with a fast USB 3.1 port but this time it is without the Ethernet connection. But it is much slower, with a scan speed of just 30 pages per minute and also cheaper by a difference of about 200$ more or less.
So what does this two-sided scanner have and what does it miss compared to it? Well it does have a touchscreen, but it is really small and low-resolution and you can't do post-processing on it. You can set up scan profiles, destinations, etc. though.
It also has the ability to scan to the cloud with more or less the same destinations and to the manufacturer's platform so they are very much alike in this sense. The RGB color depth is the same at 24-bits when scanning in color and 8-bits when doing it in grayscale.
This 2-sided scanner can output the digital images into more file formats, including JPEG, TIFF, BMP and PNG. A big difference is the fact that it has ABBYY OCR software bundled in, so you are not going to be limited to only converting the high-quality scanned images to searchable PDF files but also Word Documents and Excel spreadsheets, TXT and RTF, all with fully editable text.
One interesting advantage is that you can scan up to paper size of A3 format, even though the ADF is clearly of A4 width, by using its duplex mode it scans a folded A3 and then stitches the two images together to create an A4 scan. Clever.
It is part of the ScanSnap ecosystem which means there is a suite of apps for mostly anything you can think of doing with your documents.
Epson ES-400
| Product | Format | Scanning area | Connectivity | Sheets per minute | Images per minute | ADF Size | Daily Duty Cycle | Price |
| --- | --- | --- | --- | --- | --- | --- | --- | --- |
| Epson ES-400 | A4 | 8.27 in x 11.69 in | SuperSpeed USB 3.0 and Ethernet (optional) | 35 | 70 | 50 sheets | 4,000 sheets | Click for more info |
The Epson ES-400 is a cheap duplex scanner. So cheap, that it costs three times less than the Fi-7160. This is not meant to be directly compared to the more powerful duplex scanners, but rather a low-cost option to scan 2-sided documents in a single pass.
It is faster and cheaper than the IX1500 though, but only by a bit and it lacks some features of it. It doesn't scan independently and has no wireless connectivity, or a touchscreen where you can setup your scan profiles.
This double sided ADF scanner is compatible with both operating systems, Windows 10 and Mac OS and you can connect it to your PC or Mac via USB. You can also buy the optional ethernet port to use it as a network double sided scanner.
This device is one of the best double-sided scanners under 300$.
Which duplex scanner is the best for double-sided documents?


In our opinion, the best duplex document scanner scanner is the Raven. It is an all-in-one device that was an instant success. Over time it has proven reliable and easy to use and because its software is always updated, it deserves its huge 4.7 Amazon rating.

If you want the double-sided scanner with the best feeder, it has to be the Fi-7160. The IX1500 is a great choice for half the price of these two, because it has everything you want in a dual-sided scanner.