We selected what we consider to be 3 of the best office scanners you can buy today and we will explain why. We will be looking at what makes each scanner unique, why each one is a good choice and what are the small differences between them in terms of scanning speed, resolution, features, software, etc

Here is our round-up of the 3 best office scanners: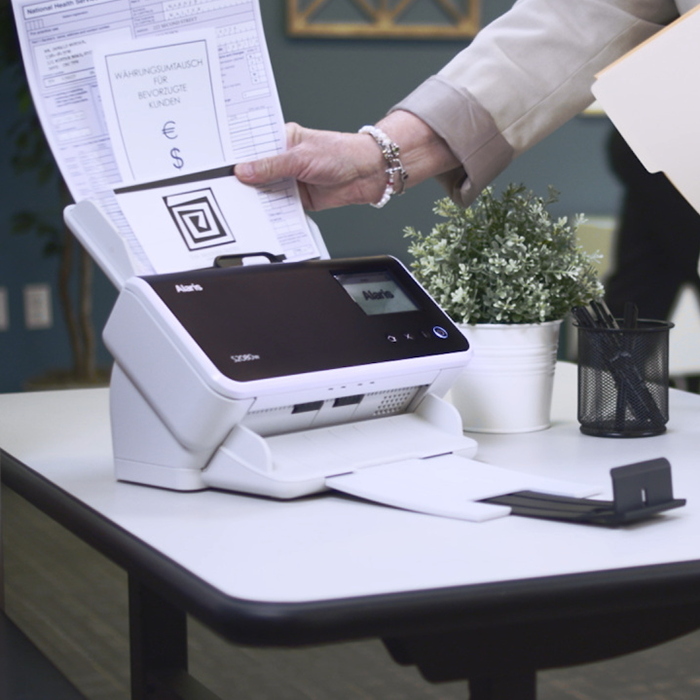 Product
Format
Scanning area
Connectivity
Sheets per minute
Images per minute
ADF Size
Daily Duty Cycle
Price

Our choice


Raven Pro Document Scanner


A4
8.5 in. x 11.7 in.
Wi-Fi (2.4ghz), Ethernet
60
120
100 sheets
6000 sheets
Click for more info

Fujitsu Scansnap IX1500


A4
8.27 in x 11.69 in
USB 3.1, WiFi
30
60
50 sheets
400 sheets
Click for more info

Brother ADS-2700W


A4
8.27 in x 11.69 in
Fast Ethernet, Wireless and Hi-Speed USB 2.0
35
70
50 sheets
3,000 sheets
Click for more info
Let's have a look at each product in particular.
Raven Pro Document Scanner
The Raven Pro is one of the best office scanners ever made. It has everything you might ever need, from fast scan speeds of 60 sheets per minute which put it in the fast scanner category to a huge touchscreen LCD from which you can control and operate all aspects of the scanning process.
Let's start with the basics: It uses a CIS, which stands for Contact Image Sensor to scan at an image resolution of 600 dpi. There is really nothing special there. What is great is that it has both a Wireless Network Connection (Wifi 2.4ghz) and also an ethernet port. Alongside these, there is a USB port which you can use either to scan directly to a flash drive (An option which we would like to see on a scanner) or to connect it to your Windows PC or Mac through a USB cable.
The best thing about this small scanner is that it works completely standalone. It doesn't need a computer or drivers and it can be shared by the entire workgroup. So you can just buy one for an entire department or depending on how large your organization is, the entire company. Each user will set their own scan profiles and scan to their desired destination.
This office scanner can scan documents with a page size of up to A4 format and the recommended daily scanning volume is up to 6000 sheets. That should be more than enough to cover the needs of any small office.
This document scanner has two types of cloud storage integrations. You can scan directly to the cloud through Google Drive, OneDrive, SharePoint, Evernote or Dropbox directly and the Raven team has been working to support as many cloud platforms as possible. They really have a support website where people request stuff and it gets done.
The software built into this office scanner is amazing. You can crop and adjust the orientation of the scan you've just performed right after and directly through the touchscreen. This is extremely useful when scanning documents and also when scanning photos, you can do some color adjustments to make the colors more vivid. It is not Photoshop level, but might be good enough even for photo scanning.
But Raven also offers the Raven cloud (similar to Fujitsu's ScanSnap cloud). The main feature that we like about it is the optical character recognition embedded into the software. It can turn your JPEG, TIFF and BMP Bitmap digital images into searchable PDF files.
Fujitsu Scansnap IX1500
The Fujitsu ScanSnap IX1500 is a direct competitor of the Raven Pro for the title of best office scanner. It is slower, with the ability to scan only 30 pages per minute, instead of 60. But it is also cheaper than the Raven Pro by almost 250$, so you should keep that in mind. The automatic document feeder tray has a paper size of A4 and can hold up to 50 sheets at a time.
As far as connectivity goes, it has built-in Wi-fi and USB 3.1. This is a standalone scanner as well and it works in the same way. It is a business scanner that can be shared with all the employees in the workplace. You can save the files to a network or FTP folder and it also has a scan to e-mail function.
The Fujitsu IX1500 also has a neat little feature, it can scan large format A3 documents too. How is that possible since its with is only A4? You fold the A3 in two and then scan both sides in duplex mode. Then the scanner will stitch the two scanned images into one large A3. It will have as many pixels as an A3 should, so it doesn't cut corners.
One of the reasons that we would choose the IX1500 over the Raven Pro as our best small office scanner if we were to buy an scanner is that it comes with the ABBYY FineReader for ScanSnap bundled into the scanning software. As opposed to the Raven Cloud, this software can convert the high-quality scanned images to Word Doc files with editable text and Excel spreadsheets along with TXT files. The Raven doesn't convert to Microsoft Office formats and the text recognition accuracy is not as good as with the ABBYY.
In february 2020 we attended the PFU conference where I talked to people from Fujitsu that have showed me some clever implementations of the IX500 and IX1500 in a for a company in France. Each office had one that digitized the paperwork and sent the data to the main office and using these devices they managed to automate most of their workflow to levels that were not previously possible. The IX1500 and IX500 were designed to automate these kinds of activities by digitizing files, official documents, invoices, legal documents.
Brother ADS-2700W
| Product | Format | Scanning area | Connectivity | Sheets per minute | Images per minute | ADF Size | Daily Duty Cycle | Price |
| --- | --- | --- | --- | --- | --- | --- | --- | --- |
| Brother ADS-2700W | A4 | 8.27 in x 11.69 in | Fast Ethernet, Wireless and Hi-Speed USB 2.0 | 35 | 70 | 50 sheets | 3,000 sheets | Click for more info |
The Brother ADS-2700W is the third best office scanner we will be reviewing here. It is the cheapest of the three office scanners, but it still packs most of the great scanning features. The price is about 50$ lower than the IX1500.
The 600 dots per inch optical resolution and 24-bit RGB color depth is identical to the other two scanners. It is the same with the Automatic Document Feeder ADF Tray capacity rated at 50 sheets. It can scan faster than the IX1500 can with a 35 pages per minute speed.
It has all the three connectivity features: Ethernet, Wireless and Hi-Speed USB. It is compatible with both operating systems, PC and Mac. You can even use it on Linux computers. It also provides SANE, WIA, ICA and TWAIN drivers, which the ScanSnap IX1500 does not. This may not be a big advantage in a shared scanner because most of the time users will not be integrating it with 3rd party apps as much as just scanning to e-mail. If you try to remember what type of scanning you do usually, you'll realize that you mostly used the basic scanning features.
It also has some great security features for your company like Settings Lock and usage of SSL, TLS and SFTP.
Which is the best office scanner for my company?

The Raven is the most advanced scanner mainly because of its intuitive easy-to-use interface that is made possible by the big LCD touchscreen mounted on it. Software-wise it works great and it has an extremely high user rating. You can't go wrong with it.

That being said, if you want one on a low-budget or you just want a home office scanner, our option would be the ScanSnap IX1500 or the Brother ADS-2700W.