For an at home scanner you don't need to invest much money or make space in your home office because the best option is now a portable scanner. It has a low price and most of the features that you would get from a desktop or flatbed scanner

In our home document scanner reviews, we look at the specifications, how many features they pack in for the price and how the users rate them

Here are 4 best home scanners of 2020: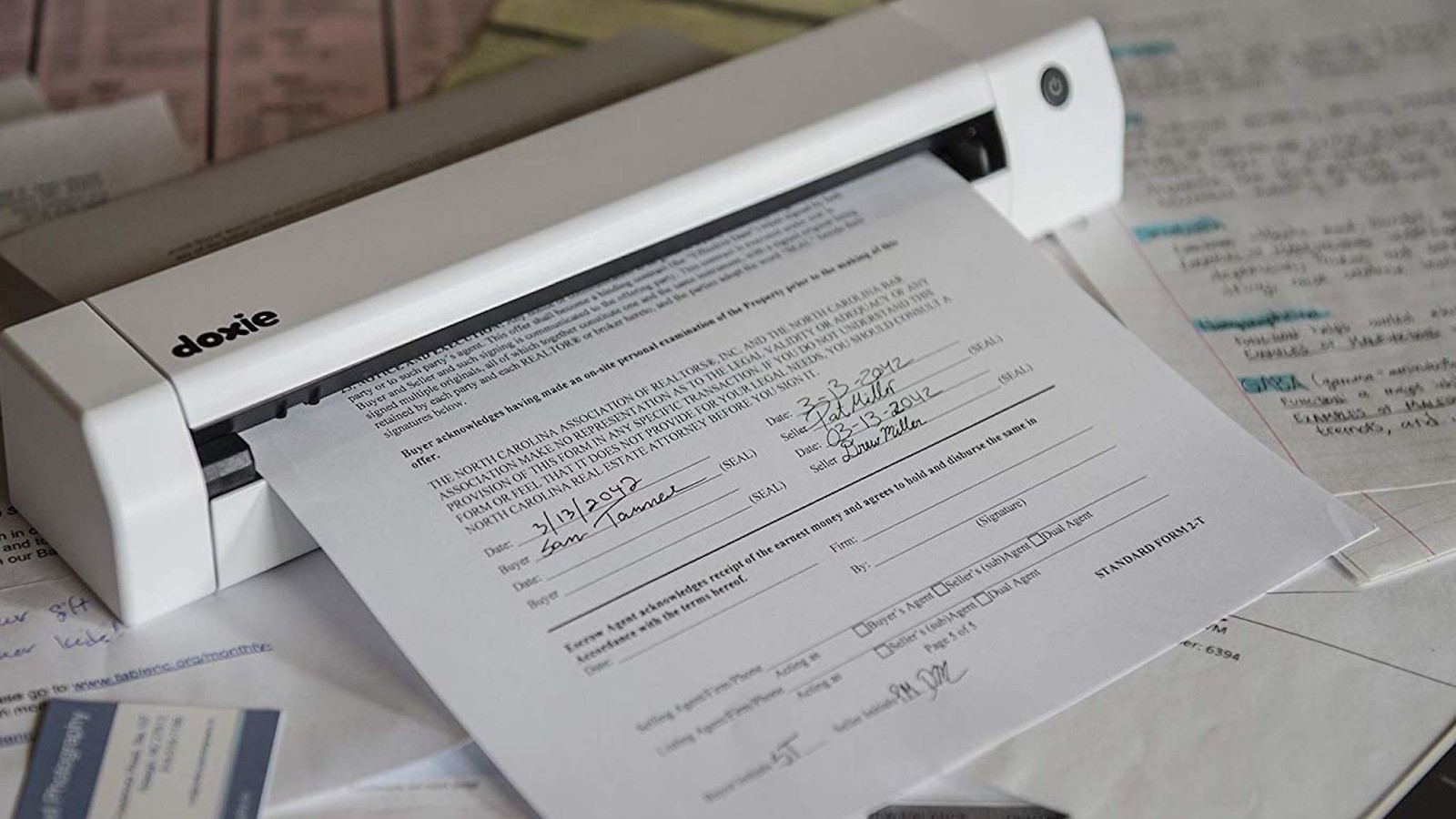 Product
Images / Minute
Resolution
Connectivity
Duplex Scanning
ADF Tray
Weight
Price

Our choice


Doxie GO SE Wifi


7 IPM
600 dpi
Wi-Fi, USB
No
No
1.1 lb. (0.5 kg)
Click for more info

Epson DS-80W


15 IPM
600 dpi
Wireless 802.11 b/g/n, USB 2.0
No
No
0.66 lb. (0.29 kg)
Click for more info

Vupoint ST 470


6 IPM
1200 DPI
Hi-Speed USB 2.0
No
No
2.8 lb. (1.27 kg)
Click for more info

Brother DS-620


16 IPM
600 dpi
Hi-Speed USB 2.0
No
No
0.88 lb. (0.39 kg)
Click for more info
Let's have a look at each product in particular.
Doxie GO SE Wifi
The Doxie Go SE Wifi is what we consider the best document scanner for home. It doesn't have the fastest scan speed at 7 pages per minute, but then for a home office it should be ok. It uses the CIS (Contact Image Sensor) to produce high-quality images at an optical resolution of 600 dpi.
A great feature that only this home scanner has and the VuPoint is that you can scan directly to an SD card. Couple that with the rechargeable battery that it has inside and you get a full and independent portable scanner. You don't need to keep it always connected to your computer just to scan a piece of paper. It doesn't have an ADF tray but neither do most document scanners for home use under 200$. Those types of features are reserved for high-end models and since you are using it as an at home scanner, chances are you won't need to do mass digitization.
You can connect it to your computer using either the Wi-fi wireless connection or USB cable and the scanner is compatible with Mac and PC Windows Devices and Doxie provides TWAIN drivers for both operating systems. Doxie calls its app "amazing software". It is not amazing, but it has a great and simple interface and is easy to use.
Epson DS-80W
| Product | Images / Minute | Resolution | Connectivity | Duplex Scanning | ADF Tray | Weight | Price |
| --- | --- | --- | --- | --- | --- | --- | --- |
| Epson DS-80W | 15 IPM | 600 dpi | Wireless 802.11 b/g/n, USB 2.0 | No | No | 0.66 lb. (0.29 kg) | Click for more info |
The Epson DS-80W has a faster scan speed at 15 pages per minute, but costs 30 dollars more. We think that the speed difference may be worth it. It uses a CIS (Contact Image Sensor) not a CCD and it scans at an image resolution of 600 dots per inch together with a 24-bit RGB color depth.
You scan using the Epson scan app and you can output the files in JPEG, TIFF, PNG and BMP Bitmap format but using the Document Capture Pro app, you convert the scanned images to searchable PDF files.
Most of the automated image processing features are there. It doesn't have Digital ICE features necessarily like flatbed scanners have but it can automatically crop, deskew and adjust the layout orientation. There is also a background removal feature.
This is one of the lightest home office document scanners that you can buy, weighing just 0.66 lbs.
Vupoint ST 470
The VuPoint is a very interesting scanner for home use because it is the most versatile portable scanner on the market. It can be used as an ADF scanner if you connect it to the included auto-feed docking station but when you want to scan books and other materials which you can't run through the Automatic Document Feeder system. When you use the ADF system, the scanning speed is 6 pages per minute but when you use it as a wand scanner, you can scan much faster at up 20 pages per minute up to A4 paper size.
One of the other big advantages of this portable home office scanner is that it has a pixel density of 1200 dots per inch which makes it suitable for photo scanning because when you are scanning photos, sometimes you need the extra pixels especially when you want to print them in large format. When you are scanning documents, you don't usually need more than 600 dpi.
For Optical Character Recognition, the VuPoint uses the ABBYY FineReader OCR software. This means that you have better text recognition and you can convert the images to Word Documents with editable text, TXT, RTF and other formats. ABBYY is the software that we use in our digitization lab in which we scanned millions of pages and we have never even thought of changing it.
Brother DS-620
This home scanner is actually the fastest one in this list with a speed of 16 pages per minute. It is not a duplex scanner, so you can't scan double-sided documents in a single pass. Given that its price is around 120$ this is really good value. It lacks wireless connectivity, which we feel is a must and the compromise is not worth it.
Another minus is that the scanning software doesn't have the automatic crop, layout orientation, background removal and other imaging features that should be bundled in a home scanner to save you from editing in Photoshop afterwards.
If you want to scan directly to the Cloud, you can download the Brother Web Connect module and upload the digital images to Google Drive, Evernote, Dropbox or OneDrive.
If you want a low-cost at home scanner, then this could be a solid choice.
Which is the best home scanner to buy?


There is no shortage of home office scanners and these 4 are our favorites. The Doxie and Epson have great user ratings, wireless connectivity so they top our list.

If you want a more versatile scanner, then the VuPoint is the one to choose because you can scan bound documents and other types of materials too.